Arrest May Be Related to Series of 15 Arsons Dating Back to 2004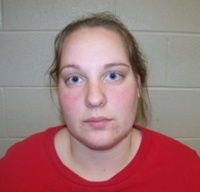 P.G. COUNTY (Feb. 15, 2008)—Prince George's County Fire Investigators, in alliance with the Accokeek Arson Investigation Group (AAIG), made an arrest today stemming from a house fire in Accokeek in August 2007.
Fire investigators and law enforcement officials arrested Stephanie Lynn Carpenter, 23, of Indian Head in Charles County. She has been charged with first degree arson.
The charges are a result of a fire that occurred just before 12 Noon on August 27, 2007, at a 2-story, single family home, at 2010 Spring Grove Drive in Accokeek.
The motive behind the arson, at this point, remains unclear, say authorities.
A charge of first degree arson carries maximum penalties of $50,000 in fines and 30 years in jail.
AAIG continues to investigate a series of 13 arsons of structures in the Accokeek area between March 2004 and December 2007. All of the buildings were vacant or under construction and renovation.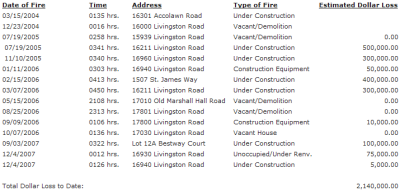 A list of 13 properties and 2 pieces of construction equipment in Accokeek that were hit by arson fires between March 2004 and December 2007. Damages are estimated at $2.14 million.
There have also been arson fires of two pieces of construction equipment in the area.
Eleven of the fifteen fires were on Livingston Road.
The investigation of the arson on Spring Grove Drive remains open and on going with the possibility of additional arrests. Fire Investigators with the AAIG say they have not ruled out anyone as a suspect as their investigation continues.
AAIG consists of fire investigators and police officers from Prince George's County, the State Fire Marshall's Office, and the Bureau of Alcohol, Tobacco, Firearms and Explosives (ATF). Today's arrest included the Charles County Sheriffs Office.