LA PLATA, Md. (Feb. 15, 2008) - The Charles County Sheriff's Department today released the following incident and arrest reports.
ROBBERY ARRESTS: The Charles County Sheriff's Office has charged two juveniles as adults in connection with an ongoing robbery investigation in which three adults have already been arrested.
Marcus Lamar Douglas was charged with armed robbery, robbery and first- and second-degree assault. Errol Dennis Vailes was charged with two counts each of armed robbery, robbery, first- and second-degree assault, using a handgun in the commission of a violent crime and theft valued at less than $200. Warrants were issued on Feb. 13 for Douglas and Vailes, who are both 17 and of Waldorf,. They were arrested on Feb. 14 and are each being held at the Charles County Detention Center with $150,000 bonds.
The arrests are the result of the ongoing investigation of a series of robberies that began in January and targeted food delivery employees. Justin Andrew Coleman, 19, of Waldorf and Ricky Maurice Hall, 18, of Washington, D.C., were arrested Feb. 5 and Daytwan Mozal Wright, 20, of Waldorf was arrested Feb. 7. The investigation is continuing.
DRUG POSSESSION: On Feb. 14 at 9:30 p.m., Charles County Sheriff's Office Sgt. J. Stoddard stopped a Ford Ranger on Marshall Hall Road near Matthews Road in Bryans Road for an equipment violation. Officer P. Sady responded to assist and determined the driver, James Alan Brand, 42, of Welcome, was intoxicated. Brand was arrested and a subsequent search revealed he had marijuana in the truck. Officers also discovered Brand's passenger, Lori Jean Scott, 40, of Indian Head, was in possession of marijuana and she was subsequently arrested. Further investigation revealed Brand's driver's license had been suspended. Brand was charged with possession of marijuana, driving while intoxicated and driving while suspended. Scott was charged with possession of marijuana. They were being held at the Charles County Detention Center pending appearances before the district court commissioner.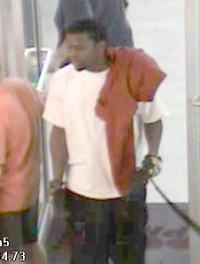 SEEKING IDENTITY OF THEFT SUSPECT: The Sheriff's Office is seeking information about the identity of a man (see photo at left) responsible for at least two thefts from lockers at a local gym. Charles County Crime Solvers is offering a reward for information that leads to the man's arrest or indictment.
On Jan. 26 and Jan. 28, the man forced entry into padlocked wall lockers at World Gym on the second floor of the Capital Clubhouse in Waldorf. After breaking the locker doors, he stole wallets containing debit and credit cards, which he later used at local retailers. He has made about $1,000 in fraudulent purchases.
Crime Solvers is offering a reward of up to $1,000 for information that leads to an arrest or indictment. Anyone with information about the man's identity may call Crime Solvers at 1-866-411-TIPS. All calls remain anonymous.