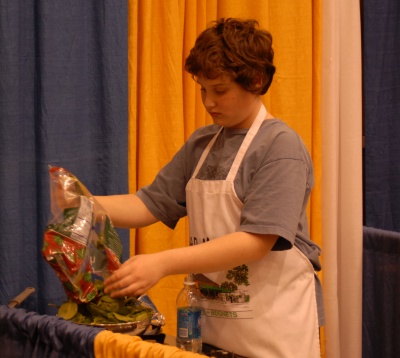 Matthew Forman, of Broomes Island, prepares his first-prize-winning Pan Seared Rockfish in Ocean City.
ANNAPOLIS (Feb. 14, 2008) - Matthew Forman, of Broomes Island, took first place in the Junior Division of the first ever Maryland Rockfish Junior Cooking Contest in Ocean City, Md. on Jan. 26. Forman called his recipe
Pan Seared Rockfish over a Bed of Greens with a Lemon-Citrus Butter Sauce
.
The Maryland Department of Agriculture's Seafood Marketing Program, along with the Maryland Watermen's Association and the Sea Grant programs of the universities of Maryland and Delaware, sponsored the contest during the 2008 East Coast Commercial Fisherman's and Aquaculture Trade Exposition. The contest was part of the Maryland Rockfish Celebration, which is also taking place at more than 55 Maryland restaurants and retail markets through the end of February.
There were three finalists each in the Kids Division (ages 7-11) and the Junior Division (ages 12-17). All six finalists received an engraved plaque and gift cards for $200, $100, and $50 for first, second, and third place respectively.
The following are the results from each division.
Kids Division:
1st Ryan Yetter, Clear Spring, Md.
2nd Eric Yetter, Clear Spring, Md.
3rd Mareike Van Wie, Wilmington, De.
Junior Division:
1st Matthew Forman, Broomes Island, Md.
2nd Rachel Smith, Centreville, Md.
3rd Emily Beeson, Monkton, Md.
The rockfish were supplied by Maryland commercial fishermen.
PAN SEARED ROCKFISH OVER A BED OF GREENS WITH A LEMON-CITRUS BUTTER SAUCE
By Matthew Forman, Broomes Island, Maryland

2 pounds rockfish, skin-on
juice of 4 lemons
1 rounded tablespoon cornstarch
6 tablespoons olive oil
12 tablespoons butter
1/4 cup shallots
1/4 cup + 2 tablespoons water
salt, to taste
pepper, to taste
2 bags baby spinach
2 - 3 cloves garlic
parsley, for garnish
1/2 -1 cup orange juice

Rinse rockfish in cold water and pat dry with paper towels. Cut into 8 pieces and then season with salt and pepper. Heat pan to medium-high, add 2 tablespoons olive oil and 2 tablespoons butter. Add rockfish, sear on both sides for 3-5 minutes. Remove to plate and cover to keep warm.

To make lemon-citrus butter sauce, add 1/2 cup sliced shallots and 4 tablespoons butter to pan. Cook shallots until caramelized. Add 1/2 - 1 cup orange juice, 1/4 cup water and juice of one lemon to shallots. Bring to simmer then whisk. Add one heaping tablespoon cornstarch mixed with ¼ cup water into sauce. Whisk until blended and smooth. Pour in bowl and cover to keep warm.

To cook spinach, add 2 tablespoons butter and 2 tablespoons olive oil to pan on medium heat. Add 4 - 6 tablespoons sliced garlic, salt, and pepper. Sauté until soft and golden in color. Add spinach, toss, turn up heat, and add 4 tablespoons water and 1 tablespoon lemon juice. Sauté until just wilted. Season with salt and pepper. Remove to serving plate and cover.

To finish dish, wipe out pan with paper towel. Add 1 tablespoon butter and olive oil each to pan on medium heat. Add rockfish, skin side up, cook until tender 4-8 minutes. Place rockfish on bed of spinach. Top with sauce, garnish with sliced lemons and parsley. Serves 8.