By Guy Leonard, County Times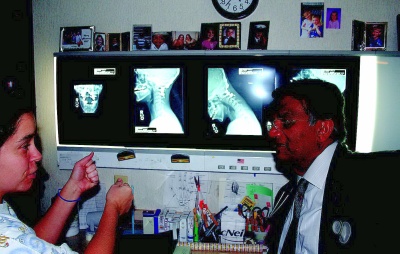 Dr. Vinod K. Shah, right, head of Shah Associates medical group, talks with Becky Sansbury a radiological technician at the Philip J. Bean Medical Center in Hollywood. Shah wants to expand the center to nearly double its size to attract more physicians to the county. (Photo: Guy Leonard, County Times)
HOLLYWOOD, Md. (Feb. 7, 2008)—When he came to St. Mary's County in 1974, Dr. Vinod K. Shah could remember a cardiologist coming to see patients just once a month for about four hours.
Things have gotten much better since then, he said, but there is still a shortage of physicians, particularly specialists.
But Shah, who heads Shah Associates, said he believes he has a solution to that problem. He wants to expand the Philip J. Bean Medical Center in Hollywood, eventually doubling its current size.
"When we built this center 10 years ago we thought it would be good to build something nice to serve the community," Shah said. "But our community has grown since then, the Department of Defense is still bringing in people."
The goal is to provide a place where physicians and specialists can come and hone their craft in a top-notch facility and an area with a growing demand. He also wants to create a place where specialists in advanced fields can see patients in need in St. Mary's County, saving residents trips to places like Georgetown University or Washington Hospital Center until an actual procedure needs to be done.
"Maryland has a shortage of physicians, particularly Southern Maryland," Shah said. "We plan on adding 30,000 square feet right now, but we want to add on a second phase.
"If we can create a center for excellence we'd like to attract people from Washington Hospital Center and Georgetown."
The concept for the expansion has made it to the pre-application stage, according to the Department of Land Use and Growth Management.
"We'll be turning in all the official documents soon," said Alan Buster, Chief Operating Officer of Shah Associates.
Buster, who worked formerly for St. Mary's Hospital, said the number of people seeking primary care in the hospital's emergency room was increasing, meaning another entity had to help out.
"If there's a lot of patients in there looking for primary care you know there's a need for more physicians," Buster said.
Currently a task force of county government and health care officials are examining how best to improve health and human services in St. Mary's. One of their top priorities is drawing more physicians to the area to begin a practice.
Dr. William Icenhower, county health officer, applauded the idea of expanding the medical center and getting more doctors for St. Mary's patients.
"If you want to talk to a family practitioner it could be several weeks before you can get an appointment," Icenhower told The County Times. "I know of several family practitioners who aren't taking any new patients.
"If we expand medical services that would be great."
Icenhower said obstetricians, endocrinologists and orthopedists were also in short supply here.
There are currently about 60 physicians working for the Shah medical group, Shah said, but he hopes to expand that by about 10 to 15 doctors in the first expansion of the center.
Shah said specialists in endocrinology, mental health and infectious diseases were all needed here. Even plastic surgeons who cannot afford to maintain a practice in St. Mary's could use the expanded medical center to assess patients, talk about procedures and prepare them for procedures at a different facility.
This would give county residents far more options for health care and elective procedures than are currently available, Shah said.
"This is not an ambitious project," Shah said. "But it's a project that comes out of necessity.
"This is about what is the best of the best [medical care] and how do you get [the community] the best care."