Pulitzer Prize Winning New York Times Columnist Gives Talk On Monday, Feb. 11 at 8 p.m.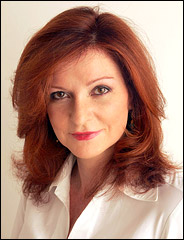 ST. MARY'S CITY, Md. (Jan. 25, 2008)—The St. Mary's College of Maryland (SMCM) continues it lineup of all-star guest speakers next Monday when Pulitzer Prize winning New York Times columnist Maureen Dowd will give an insider's view of the perils and pitfalls of our political system.
Dowd will speak as part of the College's Margaret Brent Lecture Series. Her talk is titled "Political Follies." It will offer a seasoned journalist's take on the most interesting political blunders of recent times. As a veteran of four presidential campaigns and now covering a fifth, Dowd's commentary on the American political process promises to be timely and razor sharp.
The lecture is scheduled for 8 p.m. in the Auerbach Auditorium of St. Mary's Hall on the college campus. This event is free and open to the public.
Dowd won the Pulitzer Prize in 1999 for distinguished political commentary. She joined The New York Times as a columnist for the Op-Ed page in 1995, having served as a correspondent in the paper's Washington bureau since 1986. She also wrote The New York Times Magazine column, "On Washing-ton." Her most recent book is Are Men Necessary? When Sexes Collide.
The Annual Margaret Brent Lecture Series honors Margaret Brent, a colonial Englishwoman who asked Maryland's General Assembly for voting rights in 1648. Brent was appointed by Lord Baltimore's agent and the colony's first governor, Leonard Calvert. Her request was denied.