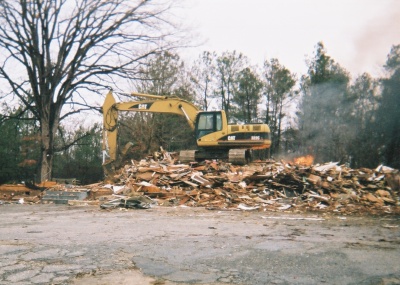 This pile of debris is all that remains of the old Happyland Club in Callaway. The building was razed in preparation for a new 30-bed shelter to be known as Leah's House. (Photo courtesy of Leah's House)
CALLAWAY, Md. (Feb. 5, 2008)—The new Leah's House shelter took one more step towards completion when the old Happyland Club building was razed on Thursday, Jan. 24. The Happyland building had occupied the corner of Piney Point Road and Happyland Road in Callaway since 1929. The facility was a focal point for the local African-American community for many decades.
"St. Mary's County, a little bit of history was moved on last week to make room for a new piece of history," wrote Leah's House founder Reverend Marguerite Morris. "It's our hope to continue serving and providing services from this corner that from its good days is described as both a heritage and a tradition."
The demolition was perform by The Trading Post of Great Mills.
The non-profit Leah's House took posession of the property last November. A 30-bed shelter for the residents of St. Mary's County is planned for the location.
Morris reports that the non-profit Home Builders Care Foundation, Inc. (HBCF) has offered to review the plans for the new facility. HBCF is the charitable foundation of the Maryland-National Capital Building Industry Association (MNCBIA). According to their website, HBCF's mission is to: "complete construction projects, with particular focus on shelter-related projects, by utilizing the industry's specialized building construction skills and by seeking to work collaboratively with existing community service providers, such as other non-profit agencies and governmental agencies serving the homeless and other at-risk populations."
History of the Old Happyland Club
as told by Reverend Marguerite Morris

The original Happyland Club existed from 1924 to 1992. In 1924 it started as Stanley's Shop. It was run by uncle Turner Thompson until 1933. Uncle Turner and Leroy Thompson ran the shop from 1933 to 1935. Leroy took over in May of 1935 and renamed it Happyland Club.

Over the years the services available were described as a one-stop shop, a community center, and the local friendly tavern. Happyland offered the community clothes, food, medicine, barber and beauty supplies, movies, hog and chicken feed and more. People could get lines of credits for purchases or even borrow money for other purposes. It was also a staging area for people traveling to other places. It at one time provided affordable rental housing.

The community gathered at the Happyland Club to take hayrides and play baseball, horseshoes and cards. Children ran and played crochet and hop scotch. On a hot summer day you could get beer, wine, liquor, hot sausage, and pickled pig's feet. Others purchased tall bottles of soda or ice cream.

When Happyland added a small baseball stadium, families traveled from miles around to meet at Happyland.

In 1992, Felton and Maxine Rothwell became the new owners and renamed it the P&P Sports Bar. Leroy Thompson used the money from the sale of Happyland to enlarge and install in-door plumbing for three of the low income rental homes on Happyland Rd.

The old Happyland club was a big part of St. Mary's County history.