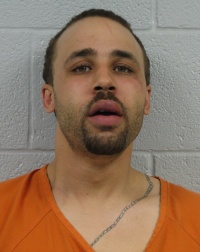 PRINCE FREDERICK, Md. (Feb. 5, 2008)—The BB&T bank in Dunkirk was robbed by a lone bandit on Friday around 10:50 a.m. The alleged robber, Jonathan Frank Murphy (pictured top left), 26, of Forestville, was apprehended after he led police on a chase through Anne Arundel and Prince George's counties. Calvert Sheriff Mike Evans credits a citizen, who was present during the robbery, with providing timely information that facilitated the rapid arrest.
Police say that after robbing the bank, Murphy fled northbound on Md. Route 4 in a white Jeep Cherokee bearing North Carolina tags. Calvert Deputy Hawkins observed the vehicle passing him at Md. Rt. 4 and Brickhouse Road at a high rate of speed. Hawkins activated his emergency equipment and gave chase. A second patrol unit joined the pursuit as Murphy's vehicle approached Md. Rt. 4 and Rt. 260.
The chase continued through Anne Arundel County and entered Prince George's County. Maryland State Troopers from the Forestville barrack were able to initiate stop sticks in the area of Woodyard Rd. Murphy's vehicle then rammed a Trooper's vehicle and crashed into the roadside culvert.
Police say Murphy attempted to bail out of the passenger side of the jeep after the crash. He was immediately apprehended, placed under arrest, and transported back to the Sheriff's office in Calvert County by members of the Criminal Investigation Team. He was charged with one count of armed robbery and theft over $500.
Sheriff Evans credited a citizen who was a patron at the bank during the robbery. Evans says the unnamed citizen obtained the tag number off the suspect vehicle and reported it, and the suspect's direction of travel, to police via his cell phone.