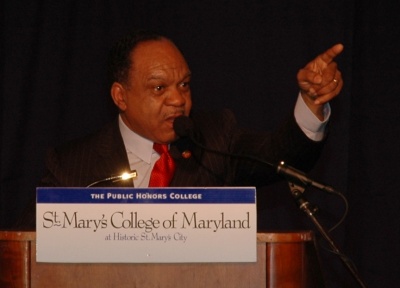 Rev. Walter Fauntroy, civil rights leader and former district delegate, delivered the keynote address at SMCM's MLK Jr. Prayer Breakfast and ended his address in song. (Photo by Judy Carr, SMCM)
ST. MARY'S CITY, Md. (Jan. 24, 2008) - Music and words honoring the late Dr. Martin Luther King Jr. brought together a diverse crowd on Monday at St. Mary's College of Maryland. The group gathered to hear The Honorable Walter Fauntroy deliver a rousing keynote address and call King "the greatest leader of the century." Fauntroy, a civil rights leader, D.C.'s delegate to Congress from 1971-1991, and pastor of New Bethel Baptist Church in the District, surprised and entertained the audience when he ended his address by singing "The Impossible Dream."
Fauntroy's speech, "A Spiritual and Political Genius," paid tribute to King's work and life. Fauntroy synthesized his own beliefs and King's teachings by repeatedly instructing the audience that in order to achieve "domestic tranquility" all citizens must have access to five things: income, education, housing, health care, and justice. Fauntroy noted that these tenets were the bedrock of King's belief system as they were of King's heroes: Jesus, Jefferson, and Gandhi.
"Martin decided every time a group of politicians sit down they are discussing these things, and who gets the money," Fauntroy said.
About 425 people attended the fourth annual Southern Maryland Martin Luther King Jr. Prayer Breakfast. Fauntroy's words followed inspirational remarks by Rep. Steny Hoyer and Herbert Jordan III, a Baltimore business leader. The event was sponsored by the College and the St. Mary's County Human Relations Commission. Two choirs performed at the event, the St. Peter Claver Choir from Ridge, Maryland and the St. Mary's College Gospel Choir.
Rep. Hoyer, who is a trustee of the College, spoke about the impact the early years of the Civil Rights movement had on him in the late 1950s and early 1960s, saying it was the defining events of his college days and motivated him to a life-long career in public service. "America's promise is not by definition, but by inclusion," he said.
Taking a different perspective, Herbert Jordan spoke about how his career achievements were made possible by King, Fauntroy and the civil rights legislation they achieved. Jordan remembered being inspired by a grandmother who emphasized the lesson of equality and inclusion for him by coloring George Washington black in the family's picture of Washington crossing the Delaware. Jordan's speech was a call for others who have achieved success "to reach back and help somebody else," something he said he forgot during the 1980s and 1990s.
Several community and civil rights leaders from Southern Maryland attended the breakfast. Opening and closing remarks by the College's president, Dr. Jane Margaret O'Brien, reemphasized the theme of selflessness that defined Dr. King's life. She cited the 19 graduates of the College who are now serving in the Peace Corps as testament to a new generation answering Dr. King's call to selfless action in the struggle for equality worldwide.
Dr. Michael Martirano, Superintendent of St. Mary's County Public Schools, reported on gains made in closing the achievement gap between white students and students of color. Pastor John W. Briscoe of the Restoration Free Gospel Church in Lexington Park, Maryland, delivered the invocation. Ben Cumbo, president of the College's Black Student Union and Barbara Hendricks, Human Resources Director at St. Mary's Hospital and member of the SMC Human Relations Commission, served as co-masters of ceremony.