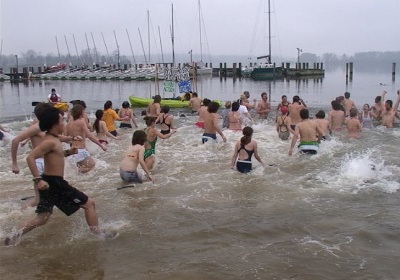 As in 2007, St. Mary's College students will again brave the freezing water in the 2nd Annual St. Mary's River Polar Bear Splash.
ST. MARY'S CITY, Md. (Jan. 23, 2008)—St. Mary's College of Maryland (SMCM) will join more than 1,000 U.S. colleges and universities pushing the environment to the top of election-year discussions. The entire campus will concentrate on the earth during "Focus the Nation" events the week of Jan. 28 to Feb. 1. Highlights of this major student-driven initiative are a campus-wide "Teach-In" on Thursday, Jan. 31 from noon to 2:45 p.m. in the Athletic and Recreation Center (ARC), a Polar Bear Splash at 3:40 p.m. in the St. Mary's River, and a political roundtable discussion at 4:20 p.m.
The public is invited to join students and distinguished visiting professors on campus. All events are free and open to the public.
The week will include focused discussions on global warming solutions for America. Lectures and presentations on renewable energy alternatives and environmental protection are planned. St. Mary's Votes, a non-partisan student group, is coordinating a week-long drive to register students to vote in the primary elections.
"Focus the Nation is a national movement to bring an active discussion of climate change to the national forefront of public policy," said Dr. Randy Larsen, who is coordinating the event. "Decisions made today on how we use energy and consume natural resources will have a tremendous impact on the quality of life for generations to come."
"Students today care deeply about sustainability, ecology and pollution," said Dr. Michael Cain, chair of the College's political science department and director of the Center for the Study of Democracy. "Political parties need to respond to these students soon, otherwise they may lose significant numbers of votes in the next presidential election. We may be seeing the beginning of the largest social movement among students since the 1960s."
At the Teach-In, Kate Abend, of the Union of Concerned Scientists, will discuss global warming solutions. Bert Drake, Ph.D., of the Smithsonian Environmental Research Center (SERC), will talk about "After an Inconvenient Truth." David Kimmel, Ph.D., of Horn Point Laboratory, will discuss climate change and the Chesapeake Bay. Patrick Megonigal, Ph.D., of SERC, will speak about ecosystem response to increased carbon dioxide levels. Michael Cain, Ph.D., SMCM Associate Professor of Political Science, and Adjunct Professor of Political Science Lloyd Timberlake will lecture on the politics of climate change. Asif Dowla, SMCM Professor of Economics, will discuss the impact of climate change on poor countries.
Also on Thursday, Jan. 31, from 10 a.m. to 3:30 p.m., there will be a Sustainability Fair in the College's Athletics and Recreation Center (ARC). The theme is "Think Globally, Act Locally." Participating local businesses include Solar Tech Inc., Shaklee Cleaning Products, Friends of Myrtle Point, Greenwell Foundation, Inc., St. Mary's Soil Conservation District, St. Mary's County Recycling Center, Jane Goodall Institute, Patuxent River Naval Air Station (NAS) Hazardous Waste Program, Patuxent River NAS Recycling Program, Patuxent River NAS Environmental Program, St. Mary's River Program, ReStore-Habitat for Humanity, SMECO, Clean Current, The Good Earth Natural Foods Company, Calvert Marine Museum, Tri-Beta Biology Club, Chesapeake Climate Action NetworkWicomico Scenic River Commission, Southern Maryland Audubon Society, Patuxent River Association, and Toyota of Southern Maryland.
On Thursday, Jan. 31, at 3:40 p.m. on the college waterfront, students will jump in the cold water in nothing but their bathing suits for the 2nd Annual St. Mary's River Polar Bear Splash. Last year some 50 students braved the wintry water to raise awareness of climate change issues.
Wrapping up the Jan. 31 events, at 4:20 p.m. in Cole Cinema, will be a roundtable discussion. The Center for the Study of Democracy will bring together federal, state and local officials to address climate change issues. Focus the Nation (www.focusthenation.org) events at SMCM are a collaborative effort of the Student Environmental Action Coalition, the Center for the Study of Democracy, the environmental studies program, Tri-Beta, the campus sustainability committee, and the Natural Science and Mathematics colloquium committee.
On Wednesday, Jan. 30, at 4:40 p.m., chemist Rick Coffin, Ph.D., of the Naval Research Laboratory lectures on "Methane Hydrates: An Abundance of Frozen, Clean Energy from the Sea." The presentation is in Schaefer Hall 106. It is geared to a general audience as an overview of global efforts on methane hydrate exploration, geo-chemical and geophysical exploration of coastal methane hydrate deposits, the relation to climate change and ocean carbon cycling, and different applications of this potential energy source.
Also on Wednesday, Jan. 30, at 8 p.m. in Cole Cinema of the Campus Center, Focus the Nation streams a live, interactive webcast titled "The 2% Solution." This "webinar" features Stanford University climate scientist Stephen Schneider, sustainability expert Hunter Lovins, green jobs pioneer Van Jones, and leading student environmentalists in a discussion of global warming solutions.
RELATED INFORMATION:
St. Mary's College Students Dive Into Freezing River Water, Feb. 2, 2007
http://somd.com/news/headlines/2007/5328.shtml