Area Youth Honor Commissioner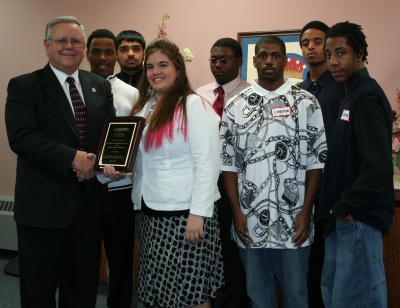 (Photo by George Clarkson, Press Secretary, Charles County Government)
Youth members of LifeStyles of Maryland, Inc. recently presented a plaque to Charles County Commissioner President Wayne Cooper for his continued dedication to the youth of Charles County.
Lifestyles of Maryland, Inc. member Alonzo Scott said, "Commissioner Cooper has been diligent in his efforts to help us find educational and recreational outlets here in Charles County. He has encouraged us, given us direction, and found ways that we could approach other agencies as we prepare to become better citizens in our community."
County Commissioners Dine with a Purpose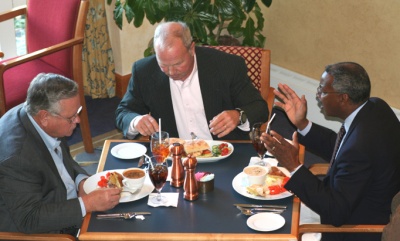 (Left to Right) Commissioners Presidents Wayne Cooper (Charles County), F. Jack Russell (St. Mary's County), and Wilson H. Parran (Calvert County) meet at St. Mary's Landing in Charlotte Hall during one of their monthly meetings. (Photo by George Clarkson, Press Secretary, Charles County Commissioners)
CHARLOTTE HALL, Md. - To regular patrons at St. Mary's Landing Restaurant in Charlotte Hall, they may look like three distinguished gentlemen having an early morning breakfast.
The coffee is flowing. Eggs are over easy. There's some laughter and jokes.
But, it's all serious business too!
Welcome to the breakfast club of Wilson H. Parran (President, Calvert County Commissioners), F. Jack Russell (President, St. Mary's County Commissioners) and Wayne Cooper (President, Charles County Commissioners).
Every other month for the last year, the trio has trekked to this cozy little restaurant, not only for the food, but to discuss issues pertinent to the quality of life in three of the most developing counties in Maryland.
"I met Commissioner Parren at Winter MaCo a year ago, and we both agreed that we needed to get together and discuss some of the issues that directly affect our counties," said Cooper. "We didn't want anything formal with a lot of people, just a relaxed setting where we could honestly talk and share ideas," Cooper added.
Commissioner Russell, who was born and raised in St. Mary's County, says the breakfast meetings have been a great experience for him. "I'm learning a lot from both Parran and Cooper because this is my first term in office," said Russell. "I truly enjoy my job, and I want to be the best at it. We all have a tremendous amount of respect for one another, and we work hard to find solutions to situations we all experience," he said.
Commissioner Parran says he looks forward to discussing budgets and ways of serving his constituents better. "We're building a great tri-county relationship right here in Southern Maryland," he said. "It's an idea communications effort because we're learning from each other and sharing ideas and expertise."