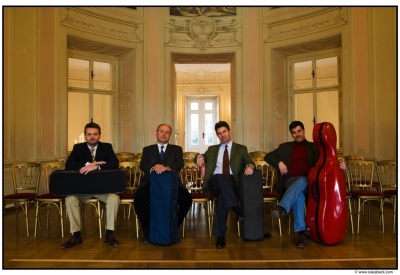 Members of the Artis String Quartet of Vienna, who play while standing, relax before their latest world tour, which includes a stop at St. Mary's College of Maryland.
ST. MARY'S CITY, Md. (Jan. 10, 2008) - The internationally renowned Artis String Quartet of Vienna will give a recital in the Auerbach Auditorium of St. Mary's Hall at 8 p.m. on Thursday, January 17. The free recital is co-sponsored by the College's Music Department and the Lecture and Fine Arts Committee.
Vienna's Artis String Quartet plays at music festivals around the world and has chosen to come to the College on its national tour, which also includes Washington's Kennedy Center. It has also won numerous international awards for its virtuosity in the classical quartet repertoire as well as with less traditional works.
The string quartet stands out because it is one of the few whose members stand up while performing.
Artis musicians teach at the Universities of Vienna and Graz, Austria, and give master classes worldwide.
Quartet members are Peter Schuhmayer, first violin; Johannes Meissl, second violin; Herbert Kefer, viola; and Othmar Mueller, violoncello.
The program for the evening is Mozart's String Quartet No. 14 in G Major, K. 387; Beethoven's String Quartet No. 10 in E-flat Major, Op. 74; and Brahms' String Quartet No. 2 in A Minor, Op. 51.