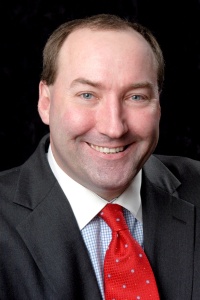 LA PLATA, Md. (Jan. 4, 2008)—Don Parsons of Huntingtown has been named chair of the College of Southern Maryland's (CSM) Foundation Board which provides support to the college and its students through the funding of scholarships, technology and arts, health/wellness and educational opportunities.
"Don has given so much of his time and expertise to the CSM Foundation, and we are thrilled that he has taken the leadership position as chair during the college's 50th anniversary year. I know that Don's leadership will result in raising the funds needed for student scholarships and college projects for the future," said Michelle Goodwin, CSM's vice president of the division of advancement.
"One of the reasons I volunteered to join the CSM Foundation Board of Directors is that I truly believe in the mission of community colleges," said Parsons, who has served as a foundation director since 2002. "Community colleges provide the best value in education nationally. They take the educational needs of the community into consideration when they are planning courses and programs and they try to keep the tuition affordable so that anyone can attend."
The director of land and business development for Kaine Homes, Parsons handles land development, acquisitions, government relations and finance. He is a member of the Calvert Memorial Hospital board of directors and the Maryland Hospital Association Executive Committee.
Previously, he worked as the senior vice president and senior credit officer of PNC Bank (formerly Mercantile Southern Maryland Bank). A former member of the Lions Club, Parsons is a graduate of Leadership Maryland's class of 2000. He has bachelor's degrees in political science and economics from Shepherd College, and a master's degree in business administration from Loyola College.
Parsons personally experienced the value of a community college education through his wife, Jackie, who graduated from CSM last summer and was the recipient of an outstanding student award. "Like a lot of other people, it was my wife's first opportunity to attend college and she loved it," he said. Their experience has helped fuel Parsons' desire to ensure others have similar opportunities for higher education.
"My principal goal is to support the college through fund-raising. I know that isn't the popular thing to say but the fact remains that there simply isn't enough money available to educate all of the students who would like to attend. Education is the most important thing we can provide our citizens, so if I ask you to lunch I am probably going to ask you to invest in the future of our community, our students," said Parsons.
"Most people want to give of themselves but often don't know how to go about it, or worry that their money or time will not be used the way they want it to be. In many cases, people are flattered that you asked them to help because it gives them a chance to volunteer their time or donate money to the things that they care most about. Whether that is ensuring the future of nursing or making certain that there is adequate childcare available for parents who attend classes, there are hundreds of ways to give back to the community through CSM," said Parsons.
In 2007, the CSM Foundation:
-- Raised $700,000 to support CSM's Institute for Science, Technology, Engineering and Math (ISTEM)
-- Raised $160,000 to support Regional Center for Trades and Transportation
-- Raised $575,000 in annual and endowed scholarships
-- Raised $600,000 to support other CSM initiatives
-- Awarded over $200,000 in student scholarships in 2007/2008 academic year
-- Raised funds to establish the Lending Library at the St. Charles Children's Learning Center
CSM, founded in 1958, is the fifth largest community college in Maryland. In its 50-year history, the college has grown to be the centerpiece of Southern Maryland, becoming an integral part of the community it serves with campuses in Calvert, Charles and St. Mary's counties and more than 21,000 annual enrollments. From a first graduation class of four in 1960, the college has celebrated more than 15,400 graduates.