Data-based System to Make Government More Accountable, More Efficient; Dozen State Agencies Using StateStat to Monitor Results, Improve Services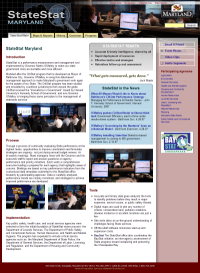 ANNAPOLIS (Jan. 4, 2008) – Governor Martin O'Malley officially launched StateStat website today to provide the citizens of Maryland with "open, transparent, and timely" information and data on state government agencies. Currently, a dozen state agencies, including Maryland's historically most troubled agencies, are using the performance measurement and management tool implemented by Governor O'Malley to make state agencies more accountable and more efficient. The site can be found at
http://www.statestat.maryland.gov/
.
"Lieutenant Governor Brown and I are committed to providing the people of Maryland with timely and accurate information necessary to hold their State government accountable," said Governor O'Malley. "Using StateStat, we are committed to making our State government more accountable and more efficient, and improving state services for the citizens of Maryland."
StateStat is modeled after the CitiStat program that O'Malley developed as Mayor of Baltimore City. The CitiStat program has been studied and emulated by many jurisdictions from around the globe. CitiStat received the "Innovations in Government" Award by Harvard University's Kennedy School of Government, and now Governor O'Malley is bringing these same principles to the management of statewide services.
The Secretary of Juvenile Services, Donald DeVore, whose agency was among the early group of participants, believes that "the StateStat process has helped the Department of Juvenile Services become a more data driven system. DJS has also adopted this process internally, which requires our Area Directors, Facility Superintendents and Case Managers to focus on results."
"I firmly believe in using data to manage and inform our decision-making. StateStat highlights key issues and trends, allowing us to manage in real time and focus on specific areas," said Secretary of Human Resources Brenda Donald, whose agency is a partner in this endeavor. "It is precisely this data that will be available to citizens through the website, giving them a tangible record of what is being done to improve our government."
Governor O'Malley signed legislation to create StateStat on April 10, 2007. According to the Governor's office, the program's key accomplishments so far include:
· Eliminated the backlog of DNA samples from convicted felons waiting, sometimes for years, to be entered into the State's DNA database. Year to date, the Maryland State Police have entered over 24,000 DNA samples into the database compared to the less than 5,000 samples entered in 2006.
· Closed the dilapidated and dangerous House of Correction in Jessup, resulting in safer and more secure conditions for inmates and guards, as well as millions of dollars in annually recurring savings.
· Significantly reduced the number of youth sitting in detention centers pending placement for a juvenile facility or program. In seven months, the number of youths pending placement for over four months has decreased by 89%, and the number of youths pending placement for longer than one month decreased by 57%.
Governor O'Malley has also launched BayStat (
http://www.baystat.maryland.gov/
), which tracks efforts over various State agencies to improve the health of the Chesapeake Bay. The BayStat agencies include the Department of Natural Resources, the Department of the Environment, the Department of Agriculture, and the Department of Planning.
Source: Governor Martin O'Malley