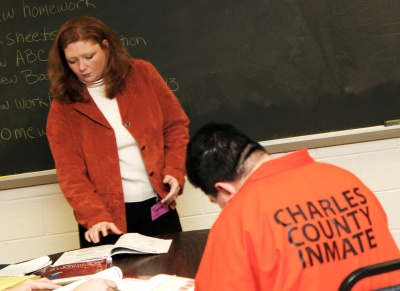 ESL Instructor Julie Jacko reviews homework and begins new lessons in English. (photo courtesy CCSO)
LA PLATA, Md. (Jan. 4, 2008)—The Charles County Sheriff's Office recently began offering an English as a Second Language (ESL) course to Spanish-speaking inmates at the Charles County Detention Center.
The class is offered through an agreement with the Charles County Public Schools Adult Education Program, which also provides General Educational Development diploma classes to other inmates. In the ESL program, two classes of seven to 10 inmates meet weekly to learn and practice English.
The class is taught by Julie Jacko, an Adult Education Program instructor who uses the English-immersion format in which little Spanish is spoken during class. She communicates the meaning of English words using other English words the class understands. When understanding a particular concept becomes difficult for one of the inmates who speaks very little English, inmates with stronger English skills help by providing an explanation in Spanish. In addition to using the printed materials, students also use computer software to learn the language.
The program and instruction materials are funded by inmate commissary money. With the growing Hispanic population, Corrections personnel needed to obtain the resources to communicate with Hispanic inmates. In addition to offering the ESL program, the Corrections Division also prints a Spanish handbook to help Spanish-speaking inmates understand the guidelines and procedures at the Charles County Detention Center.
"The inmates who participate in the ESL program are very excited to learn English and our Corrections personnel and the Adult Education Program personnel are very committed to their success," said Sheriff Rex Coffey. "Learning English helps the inmates communicate with us more easily, prepares them for a better life once they are released and encourages good behavior while they are incarcerated."