Talbot Street Ribbon Cutting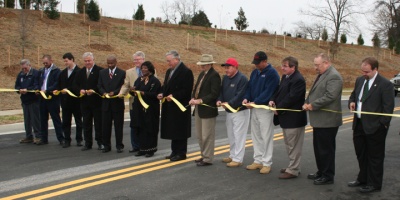 The Charles County Commissioners officially opened Talbot Street in La Plata recently with a ribbon cutting to signify the completion of the project, which runs from Washington Avenue to US Route 301, north of Charles Street. Sharing in the ribbon cutting were (left to right) Bill Sandy and Steve Staples from the Charles County Department of Public Facilities, Daniel Mears, La Plata Town Manager, Charles County Commissioners Samuel N. Graves, Jr., Reuben B. Collins, II, Gary V. Hodge, Vice-President Edith J. Patterson, and President Wayne Cooper, Ron Litten, Billy Carr, James Erdman, Bill Proper, Director of the Department Public Facilities, and Paul Comfort, Charles County Administrator. (Photo by Jason Lang, Media Relations Assistant, Charles County Government)
Ribbon Cutting for Generator in Nanjemoy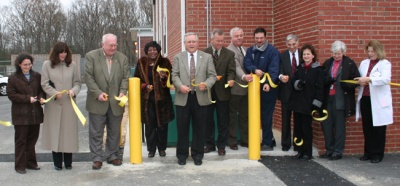 It was ribbon cutting day in Nanjemoy recently when a generator was installed at the Nanjemoy Community Center building. The generator, donated by Southern Maryland Electric Cooperative (SMECO), will provide electricity to the Greater Baden Medical Services Clinic that is located in the Center. During power outages, the generator will operate then light fixtures, two medical refrigerators, one staff refrigerator, six computers, and the telephone system. The generator is powered by the use of propane gas. Joining the County Commissioners were representatives from SMECO, Greater Baden Medical Services, and the Charles County Delegation.
(Photo by George Clarkson, Press Secretary, Charles County Government)
Rain or Shine, Charles County Sings in the Season

Soggy weather moved activities inside the La Plata Town Hall, but it did not dampen the excitement at the holiday sing-along on Sunday evening as County Commissioners, La Plata Town Council members, and residents enjoyed a musical kickoff to the holiday season. Donning red hats and festive attire, County and Town officials sang favorite holiday carols. They were joined by Pastor Tony Love and choir members from Covenant Point United Methodist Church in Waldorf. The choir performed gospel selections, under the direction of Oliver and Jacqui Myers.
The songfest capped an evening of family-friendly activities, including a magic show, rides on the Charles County Fa-La-La Trolley and the Holiday Train, and the arrival of jolly old St. Nick. The community celebrated the season of giving by generously supporting less fortunate families with food, toys, and animal shelter donations. The event was organized by Charles County Government and the Town of La Plata.
(Photo by George Clarkson, Press Secretary, Charles County Government)
Talking Their Language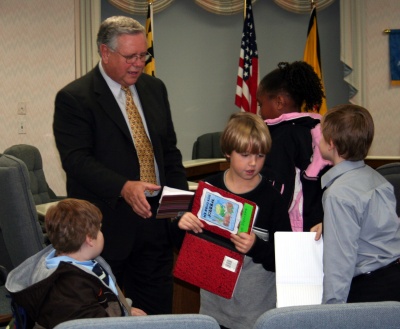 Commissioner President Wayne Cooper met with third-grade students from Dr. Thomas L. Higdon Elementary School at the Charles County Government Building on Friday, November 30. Several students and teachers sat around the dais in the Commissioners' meeting room as Commissioner Cooper explained County Government structure and operations, the budget allocation process, and recycling programs, and fielded questions the students prepared in advance. Much to the third-graders' delight, Commissioner Cooper also tested their knowledge of popular television shows, "Hannah Montana" and "SpongeBob SquarePants."
(Photo by George Clarkson, Press Secretary, Charles County Government)
County Administrator Graduates From Leadership Maryland
Paul W. Comfort, Charles County Administrator, recently completed an eight-month long leadership development program sponsored by Leadership Maryland.
Leadership Maryland, celebrating its 15th graduating class, honored this Charles County resident, along with 51 statewide classmates, at a black-tie reception and banquet held December 4, 2007, at the Renaissance Harborplace Hotel in Baltimore.
Leadership Maryland, an independent, educational leadership development organization, informs top level executives from the public and private sectors about the critical issues, challenges and opportunities facing the State of Maryland, and its regions. After participating in a broad range of experiences, these statewide leaders are prepared to address these issues and serve as important participants in the unified effort to shape Maryland's future.