Leah's House Benefits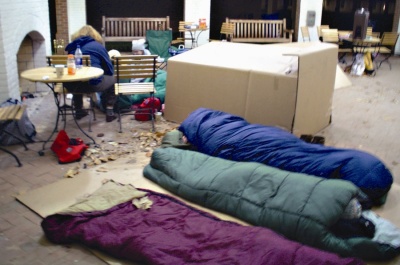 St. Mary's College students take to the cold outdoors in their efforts to raise awareness for the nation's homeless and hungry. With leftover meal plan money, the students partnered with campus meal provider Bon Appétit to raise nearly $6,000 to donate to Leah's House and other charities. (Photo courtesy SMCM)
ST. MARY'S CITY, Md. (Dec. 20, 2007) - St. Mary's College of Maryland (SMCM) students teamed with campus meal contractor Bon Appétit to raise $6,000 in leftover meal plan money for local and international hunger organizations. The fundraising was part of National Hunger Awareness Week, and the money from students' extra meal "blocks" was donated to the local Leah's House and the international aid organization OXFAM.
The on-campus community service club, For Goodness' Sake, created the block donation program. The program is just one of many awareness events held on campus during the week of November 12. It allowed students to donate unused funds from their meal plan. The college meal plans are bought in advance, and each student receives a certain number of blocks based on their plan.
Jeff Faith, the student leader of For Goodness' Sake, said, "The total value this year from the block donations came out to be $5,647.10, the result of 306 students donating 1,490 meal plan blocks." He added, "We've worked very closely with Michael Strumpf, General Manager from Bon Appétit, and we would not have been able to raise the money we did without his efforts." Bon Appétit, the food services company on campus, has been a supportive partner in the block donation program.
This is the third year the program has donated students' spare meal blocks. The money raised through the block donation program will be split between Leah's House, a local shelter for homeless women and children, and OXFAM, an international organization dedicated to finding solutions for poverty and world hunger.
For Goodness' Sake raised an additional $800 for Leah's House through a sleep-out event. SMCM students pledged to sleep outside, in order to raise awareness for homelessness, in exchange for donations from friends and family.
"The event was a success despite poor weather," Faith said, "We had political science professor Todd Eberly speak to the students, along with a performance by The Nightingales A Cappella." Other on-campus events during the Hunger and Homelessness Awareness Week included a Hunger Banquet and a visit by Miriam's Kitchen Poets of Washington, D.C.