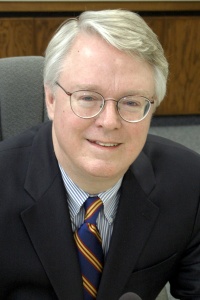 LA PLATA, Md. (Dec. 19, 2007)—Charles County Commissioner Gary V. Hodge was unanimously elected Chairman of the Tri-County Council for Southern Maryland for 2008 at the organization's annual meeting on Thursday, December 13 at the Hilton Garden Hotel in Calvert County.
In his remarks following the election, Commissioner Hodge said, "The Tri-County Council has played an important role in the progress that Southern Maryland has achieved over the past 40 years. By working together we have helped bring prosperity to a region that is now considered one of the economic engines of the State. As we go forward to meet new priorities and challenges, we need the Council more than ever."
The Tri-County Council is the regional planning and development agency for Calvert, Charles, and St. Mary's Counties, permanently established by the Maryland General Assembly in 1966. The organization is governed by Southern Maryland's elected County Commissioners and state legislators. The Council's programs include strategic planning and advocacy for regional transportation improvements, environmental quality, agriculture, and economic development.
Commissioner Hodge served as Executive Director of the Council from 1980 through 1998, and has served as a member of the Executive Board representing Charles County for the past year.