CSM Retirees Recognized for Dedication and Service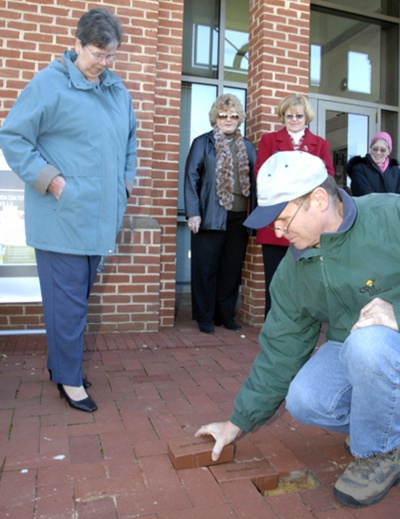 Counterclockwise from left, Montgomery, Johnson, Bladen and Judy Schroeder watch as Don Posey places Montgomery's commemorative brick in the sidewalk.
Celebrating 124 years of service to the College of Southern Maryland, four retired college employees were honored by the presentation of inscribed bricks at the La Plata Campus. CSM's Inscribed Brick Project began in 1989 at the James C. Mitchell Center for Health and Technology to recognize the dedication of outstanding CSM faculty, staff or friends of the college or as a memorial to friends and relatives.
Judy Montgomery, Betty Johnson and Robin Bladen were recognized by the procurement department and Christine Miller (not present) was honored by the nursing department.
Lecturer Teaches CSM Students How to Encourage Cancer Patients
From left, CSM guest lecturer Dr. Lillian Nail, a Komen-funded breast cancer researcher and oncology nurse, visited with nursing students Shannon Wedding and Lorraine Williams, whose breast cancer awareness display is shown in the background.
Dr. Lillian Nail, PhD, RN, FAAN and a Komen-funded breast cancer researcher and oncology nurse, visited students of CSM's nursing program. Her presentation "Becoming a Survivor" highlighted some of the pre- and post-care issues cancer patients face.
"Cancer care has completely changed. In the past, cancer treatment was done almost entirely in the hospital and if you survived you went home and you didn't talk about it," said Nail, who noted that surviving cancer is "out of the closet…people talk about it, share their stories and hope."
For information on CSM's healthcare courses call 301-934-7534 or 301-870-2309, Ext. 7534 for Charles County; 240-725-5499, Ext. 7534 for St. Mary's County or 443-550-6199, Ext. 7534 for Calvert County or visit
http://www.csmd.edu/healthcare/.