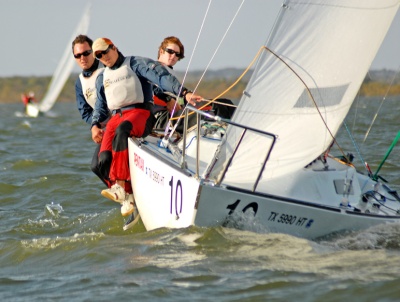 St. Mary's College of Maryland sailors won the ICSA National Sloop title. From left to right are Valen Smith, Derick Vranizan and John Loe. (Photo credit: GTSphotos)
ST. MARY'S CITY, Md. (Dec. 12, 2007) - St. Mary's College of Maryland's (SMCM) sailing team is putting another trophy on the shelf after winning the Intercollegiate College Sailing Association's (ICSA) Sloop National Championship in Fort Worth, Texas, in November. The team beat Boston College, Navy, and Texas A&M-Galveston on a J-22 with a crew of three. They brought home the Cornelius Shields Jr. Trophy.
The team was skippered by John Loe, a senior from New Orleans, Louisiana, and crewed by Valen Smith, a senior, from Wilmette/Chicago, Illinois, and Derick Vranizan, a junior, from Seattle, Washington.
Loe said he felt relief more than excitement with the win after three years of consecutively competing and qualifying. The College team placed ninth in 2005 and second in 2006.
"I think we are the only team to qualify three years in a row for the sloop championship," said Loe. "It was a really small lake and we had varied conditions. We had a spectacular broach and wipeout just after the finish line in one race."
The team was coached by Bill Ward, SMCM assistant sailing coach. "One of the best ways to determine a true champion is to test them in a variety of conditions," said Ward.
The Sloop National Championship is a series of ten races over three days on 22' sloops. The College win came on the last day in light air when they eliminated Navy and Boston College.
To train for the race, the team practiced on a Colgate 26' owned by Mike O'Brien (Class of '68) of Solomons, Maryland. O'Brien is an alumnus and trustee of the College.
The team perfected their skills on a J-22 in Annapolis on a boat made available to them by SMCM alum Scott Nixon ('92) who works for Quantum Sail.
The last time the College won this trophy was in 1993 in Gull Lake, Michigan, when the event was hosted by Western Michigan University.
The sloop championship continues the dominance SMCM commands on the water. Last spring the College won the Women's and Team sailing championships. This championship makes the 13th national sailing title at SMC since 1993.