Use of Cartoons and CDs in Advertising a Violation of the Master Settlement Agreement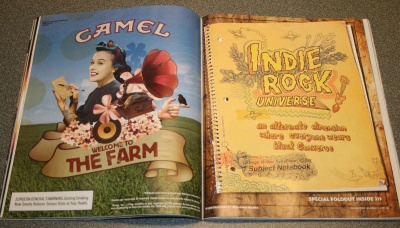 Md. Attorney General Gansler says the above ad, 2 pages of a 9-page "special advertising section" for Camel cigarettes which appeared in Rolling Stone Magazine, violates 1998 Consent Decree that prohibited the use of cartoons and brand merchandise in the marketing of R.J. Reynolds Tobacco products. (Image courtesy of Attorney General Gansler's office)
BALTIMORE (Dec. 4, 2007) - Attorney General Douglas F. Gansler announced today that he has filed a multi-million dollar suit against R.J. Reynolds Tobacco Company for violating the 1998 Consent Decree that prohibited the use of cartoons and brand merchandise in the marketing of its products. The suit was filed in Baltimore City Circuit Court today and seeks monetary sanctions of no less than $2.5 million.
According to the court documents, Gansler says that Reynolds violated the Consent Decree that approved the Master Settlement Agreement (MSA) by using cartoons in a 9-page "special advertising section" for Camel cigarettes. The ad appeared in the November 15, 2007 40th Anniversary edition of Rolling Stone Magazine. In addition, as part of the advertising campaign, Reynolds distributed by mail to Marylanders a "Camel - The FARM" music CD. The CD and the associated website use prohibited cartoons to promote Camel cigarettes.
"Reynolds is doing exactly what it agreed not to do - use cartoons and distribute brand merchandise," said Attorney General Gansler. "The MSA contains stringent anti-youth marketing provisions and this type of advertising is a blatant violation of the MSA. Nine years after we thought we had seen an end to the predatory marketing practices of the old days, Reynolds continues to use the deadly charm of cartoons and merchandise to entice new customers."
Reynolds' violations of the MSA are particularly disturbing given the company already is subject to additional marketing restrictions imposed by Maryland courts on the company after the 2004 Kool MIXX Hip Hop marketing campaign.
Gansler has asked the Court to permanently enjoin Reynolds from all further use and distribution of the CDs and cartoon images in any form and to pay sanctions of no less than $100 for each magazine and CD distributed in Maryland, and each "hit" by a Marylander on the R.J. Reynolds "The Farm Rocks" website. In addition, Gansler has asked the court to order Reynolds to place one full page, anti-smoking ad in Rolling Stone Magazine for every page of the "Camel - The Farm" ad.
On October 16th, 2007, representatives for several state attorneys general, including Maryland, met with R.J Reynolds officials to clearly express concern over a number of recent advertising campaigns. Less than a month after that meeting, newsstands across the country have been filled with multi-page cartoon ads, aggressively marketing the Camel brand to a youth-filled audience.
"Reynolds continues to attempt to circumvent the restrictions outlined in the MSA," said Attorney General Gansler. "By filing this lawsuit, we are holding RJR accountable for its egregious conduct and letting them know that these deadly marketing practices will not be tolerated."
As of this morning, seven other states have filed similar actions. Those states include: Pennsylvania, New York, California, Washington, Ohio, Illinois, and Connecticut.
Source: Maryland Attorney General Douglas F. Gansler