Reward Offered for Information about Additional Suspects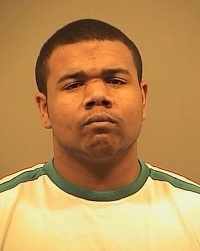 LA PLATA, Md. (Dec. 3, 2007)—A Southern Maryland Information Center (SMIC) Task Force investigation into an armed robbery and home invasion attempt in November has led to the Charles County Sheriff's Office's arrest of Eric Devin Jones, 18, of Waldorf.
On Nov. 12 at approximately 7 p.m., several armed suspects attacked and robbed a 19-year-old Waldorf man as he was walking from an apartment in the 3000 block of October Place in Waldorf. During the robbery and assault, some of the suspects went to the apartment the victim had exited and attempted unsuccessfully to force entry and confront the occupants of the residence. All the suspects then fled and the Charles County Sheriff's Office was called to the scene.
Sheriff's officers responded to investigate and the victim was transported to Civista Medical Center, where he was treated for injuries he sustained during the assault.
The SMIC Task Force, a collaboration of detectives from Charles, Calvert and St. Mary's counties and the Maryland State Police, assumed the investigation and developed suspects, including Jones, based on information provided during the investigation indicating the incident the result was an ongoing dispute between the suspects and the victims.
On Nov. 15, detectives from the task force, detectives from the Charles County Sheriff's Office's Criminal Investigation Division and members of the Sheriff's Office's Emergency Services Team, executed a search warrant at the residence and recovered evidence related to the Nov. 12 incident.
On Nov. 29, detectives obtained a warrant for Jones's arrest, and he was arrested by the Warrant/Fugitive Unit on Nov. 30. He is charged with two counts each of robbery and assault, drug possession and other crimes related to the robbery and home invasion attempt. He is being held at the Charles County Detention Center on a $250,000 bond.
The investigation is ongoing by the Southern Maryland Information Center Task Force. Anyone with information on this crime can contact the Task Force at 1-888-713-7171 or by e-mail at smic (at) smictf.com.
Anyone with information about this or any other crime may contact Charles County Crime Solvers at 1-866-411-TIPS. Crime Solvers offers rewards of up to $1,000 for information that leads to an arrest or indictment and all callers remain anonymous.