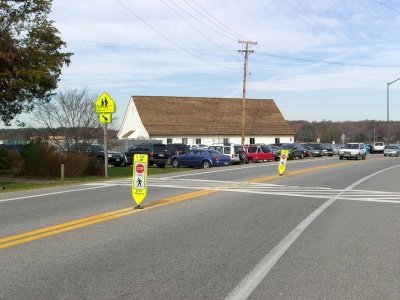 The now completed boathouse at St. Mary's of College in St. Mary's City as seen driving northbound on Md. Route 5. Prior to the building being constructed, passersby were treated to a scenic view of the St. Mary's River. Trustee Robert Waldschmitt of Solomons commented that the bright color should be toned down at Friday's subcommittee meeting.
ST. MARY'S CITY, Md. (Dec. 3, 2007) – The St. Mary's College of Maryland (SMCM) Board of Trustees Saturday morning unanimously voted to leave the controversial boathouse where it sits. Trustees cited student safety and cost as the two official reasons for not moving the structure to a less offensive location behind the new River Center a few feet away.
Estimates developed by the college administration placed the cost to move the structure at a low of $646,166 and a high of $929,434. The latter figure includes $273,268 to relocate a portion of Trinity Church Road.
They also voted unanimously to establish a Capital Design Advisory Committee to provide a mechanism for public input for capital projects. The proposal was a direct result of the boathouse controversy.
Trustee Michael O'Brien of Solomons chairs the Buildings and Grounds Subcommittee which on Friday voted unanimously to make the recommendation to the full board not to move the boathouse.
A full report will be filed later today.