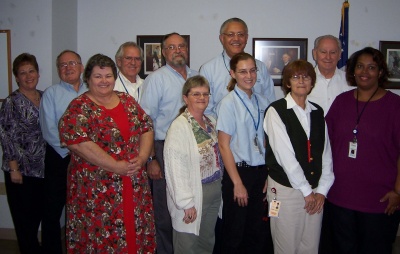 St. Mary's County Health Department's Medical Transportation Program team (back row left to right) Cindy Spalding, administrative officer; Harry Nelson, Michael Esch, Al Richards, Alan Scott, and George Goodwin, drivers; (front row left to right) Patti Whorl, office supervisor; Janet Williams, office services clerk; Cheryl Burton and Helen Goodwin, drivers; and Kim Fenwick, office services clerk. (Photo courtesy of S.M.C. health Dept.)
LEONARDTOWN, Md. (Dec. 2, 2007)—The Rural Maryland Council presented St. Mary's County Health Department's Medical Transportation Program the Outstanding Rural Health Program Award at its 2007 Maryland Rural Summit in Solomons Island on Thursday, October 18,. The Council is an independent state agency recognizing the unique concerns of rural Maryland.
Health Department staff gathered for a reception Monday, November 19 to honor program drivers and office staff, who were all key players in the program's success.
St. Mary's Medical Transportation Program was recognized for helping to solve the disparity experienced by those who do not have adequate transportation options to get to their medical appointments. Last year, health department drivers transported 1,241 patients to and from their appointments, logging 206,534 total miles.
The Rural Impact Awards have been given every year for the last ten years to recognize innovative and committed leadership in Maryland's rural communities whose residents face a unique combination of factors which create disparities in health care.
RELATED INFORMATION:
St. Mary's County Health Dept. Program Wins 2007 Rural Impact Award
http://somd.com/news/headlines/2007/6522.shtml