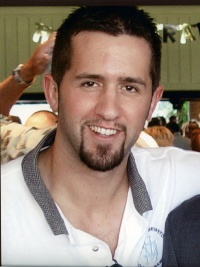 Reward for info leading to the resolution of Chris Mader's murder in 2004 has increased to $60,000.
LA PLATA, Md. (Dec. 2, 2007)—The record-breaking reward for information about a cold-case murder investigation has increased again, the Charles County Sheriff's Office has announced. The original reward for information about the murder of Christopher Mader early Thanksgiving morning in 2004 was increased to $60,000 after a $4,000 donation by Chris Willett of Willett Construction Services in White Plains.
Mader was 23 when he was shot and killed while driving home from work about 3 a.m. Nov. 25, 2004. The Sheriff's Office's Cold Case Detail, which was established by Sheriff Rex Coffey in September, continues to investigate the murder.
"We know someone has information about what happened to Chris," said Det. Kevin Keelan, who is investigating the Mader homicide. "Maybe they were with the shooter before, during or even after the murder occurred or maybe the shooter confided in them about what took place. Whatever the case may be, it is in that person's best interest to come forward now."
Charles County State's Attorney Leonard Collins said, "We know from the 9-1-1 call that there is someone out there who wanted to contact the police. They can contact us again. They will have more credibility if they come to us instead of us finding them. If someone knows about this, someone who wasn't the shooter, and they are scared to come forward, we urge you to come forward. If you are afraid, we can offer you protection. We are appealing to your sense of justice."
Someone attempted to contact police about the murder shortly after it occurred. A male used a payphone to call 9-1-1 in Prince George's County but disconnected the call after a brief conversation with the call-taker. A portion of the recording of the call remains on the Sheriff's Office's Web site.
In the recording made available by police, the male caller says in a calm voice: "I was traveling down 301 earlier tonight and I believe there were shots fired and someone was injured."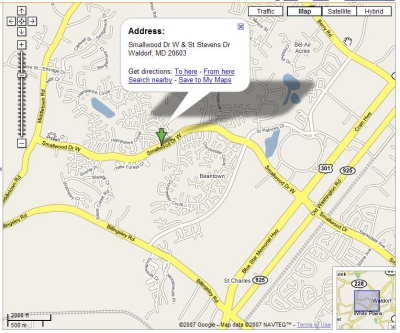 This map shows the location of the shooting relative to Md. Route 301. (Map courtesy of Google Maps)
Maryland Route 301 is at least a mile from the intersection of Smallwood Drive and St. Stevens Drive where the shooting occurred.
Many believe that finding the caller is key to solving the case as he may know, or even be, the shooter.
Sheriff Coffey and other Sheriff's Office officials gathered with Mader's family and Ironworkers Local 5 Nov. 19 for a press conference near the entrance to Mader's neighborhood, Hampshire, at the intersection of Smallwood Drive and St. Stevens Drive in Waldorf, where Mader was killed. They announced the new reward money and appealed for information.
The reward includes $30,000 raised by Mader's family through a memorial fund established in his name. Ironworkers Local 5, which serves Washington, D.C., and surrounding areas and has offered reward money in the past, contributed $25,000. Charles County Crime Solvers is offering $1,000. This, in addition to Willett Construction Services' $4,000 contribution, makes the $60,000 total the highest reward amount in Charles County history.
Anyone who has information is urged to contact Crime Solvers at 1-866-411-TIPS or Det. Keelan at 301-609-6509. All callers remain anonymous and are eligible for the $60,000 reward.
RELATED INFORMATION:
Charles County Sheriff's Office Page on Mader, Including 911 call recording
http://ccso.us/joomla/index.php?option=com_content&task=view&id=18&Itemid=71
America's Most Wanted Coverage
http://www.amw.com/fugitives/case.cfm?id=31001