By Rob Koon, NAVAIR Public Affairs Officer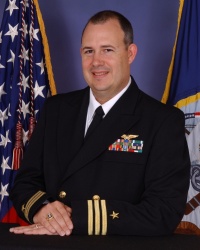 NAVAL AIR SYSTEMS COMMAND, Patuxent River, Md. (Dec. 2, 2007) – Cmdr. Ralph Lee is the new deputy program manager for the Aircrew Systems program office (PMA202).
"I'm very happy to be in Aircrew Systems, it's a very interesting program and I know that what we do here affects people's lives and their quality of life," said Lee. "Bringing the Fleet's perspective into the office is critical and I think NAVAIR does it very well."
"We've been out there wearing the gear, flying the seven plus hour missions, strapped to an ejection seat, so we try to bring that knowledge back and incorporate that information into the products we are developing," added Lee. "Coming into this job, as the principal deputy for Aircrew Systems as a Cmdr. is an unusual opportunity and I'm looking forward to it."
"PMA202 is very lucky to have Cmdr. Lee as our deputy program manager to help lead the continued improvements we are undertaking in PMA202. He really stood out among a great group of candidates. Lee is bringing a wealth of acquisition and fleet experience which will be a great complement to me. Having a military deputy is what I really wanted and I plan to learn a lot from Ralph."
Aircrew Systems exists to support the Fleet and includes all systems that directly support the aircrews, troops and passengers in the performance for their missions. Equipment types include protective clothing, helmets, helmet mounted cueing systems, night vision systems, body, hearing and eye protection, oxygen systems, ejection seats and crashworthy seating, survival gear, chemical, biological defense equipment, egress breathing systems, floatation and the support equipment required to troubleshoot and maintain this equipment.
Lee has a long history as an Aerospace Engineering Duty Officer at NAVAIR beginning in 2001 where he served in several program offices including Tactical Tomahawk, P-3C Orion Avionics Improvement Program and most recently as the Concept Development Deputy Program Manager for the Navy Unmanned Combat Air System (N-UCAS) Advanced Development Program and NAVAIR's Individual Augmentation manager.
Lee's operational background includes a tour as an A-6E Bombardier/Navigator in Attack Squadron One Six Five, "The Boomers" in Air Wing Nine aboard the USS Nimitz. Additionally, he completed a tour as a Tactical Coordinator (TACCO) in Sea Control Squadron Three Three, "The Screwbirds" in Air Wing Nine aboard the USS Nimitz.
Lee's awards include the Meritorious Service Medal, Air Medal, Navy Commendation Medal, Navy Achievement Medal (2), Navy Meritorious Unit Commendation, Navy "E" Ribbon, Armed Forces Expeditionary Medal, Southwest Asia Service Medal, and the Kuwait Liberation Medal. Additionally, he was awarded the SPAWAR Electronic Systems Engineering Award upon graduation from the Naval Postgraduate School.
Lee is married to the former Marie Izaguirre of San Diego, Calif. and has two children, Haley and Erik.