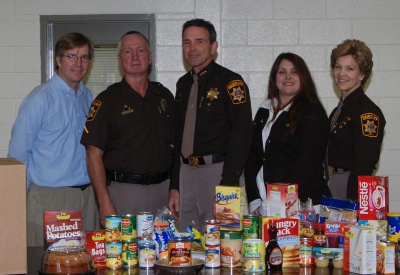 Pictured from left to right are: Board of Director member Craig Renner of the Children's Aid Society, Correctional Officer John Greer, Sheriff Rex Coffey, Executive Director Maria Bryan of the Children's Aid Society and Deputy Director Pam Dottellis.
LA PLATA, Md. (Dec. 2, 2007)—The Charles County Sheriff's Office Corrections Division provided Thanksgiving dinner for 20 less-fortunate families by donating 40 boxes of food to the Children's Aid Society. Sheriff Rex Coffey, Detention Center Director Pamela Dottellis and Charles County Correctional Officers Association President, Correctional Officer John Greer, presented the donation on Nov. 19 to the Children's Aid Society's Executive Director, Maria Bryan, and Board of Directors member Craig Renner.
Each of the 20 families received two boxes, one contained items for Thanksgiving dinner and the other had more food for the family after Thanksgiving. Each family also received a turkey.
The donation was part of an annual fund-raiser competition in the Corrections Division. Six teams participated in a challenge to raise the most money in less than three weeks. Correctional Officers Greer and Kathleen Rackey then used the money to purchase the food from Food Lion.
"The amount of money we raised well exceeded my expectations," said Officer Greer. "I am more than happy with what we raised and I look forward to doing it again next year."
The Corrections Division raised approximately $2,000, enough to purchase not only the food but also toys and games that will fill stockings for children at Christmas.
The Rottman Creative Group in La Plata designed fliers for the fund-raiser and Pizza Hotline delivered five pizzas to the winning team.
"We really couldn't have done this without their support," said Correctional Officer Greer. "It's great to know that people in your community want to help."