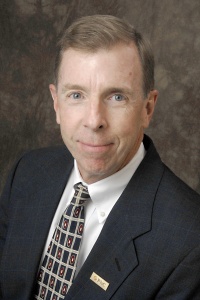 LA PLATA, Md. (Dec. 2, 2007)—William 'Bill' Sturgis, regional president of PNC Bank, has joined the College of Southern Maryland's Foundation Board. The foundation provides support to the college and its students through the funding of scholarships, technology and arts, health/wellness and educational opportunities.
Sturgis, who prior to his return to Southern Maryland lived along the Eastern Shore, noted that the college's reputation is well-known throughout the state.
"CSM serves an important role in the community, because it provides students with the opportunity to learn about themselves while being active members of the community," said Sturgis in a statement. "The college has an amazing reputation for the quality of its instructors and students. It is the type of college where you can walk across campus and people acknowledge each other with a smile."
A resident of Leonardtown, Sturgis is the regional president of PNC—formerly Mercantile Southern Maryland Bank—with 17 branches throughout Southern Maryland. He is a member of the Maryland Banker's Association board of directors and the St. Mary's Hospital board, and he is a former member of the United Way of St. Mary's.
Sturgis holds degrees from the University of Oklahoma's National Commercial Lending School and National Graduate School with specializations in credit and lending, as well as a bachelor degree in business administration from Old Dominion University and an associate in business administration from Wesley College.
An active golfer, traveler and reader, Sturgis has two grown daughters.
"Bill is a great addition to our Foundation Board," said CSM President Dr. Bradley Gottfried in a statement. "He knows and appreciates the important role the college plays in the region. His understanding and commitment to excellence will help the Foundation continue to grow and prosper. We are very fortunate to have his support."
"Fundraising is an important part of what the CSM Foundation does but what really resonated with me was the opportunity to assist the college in the creation of a scholarship program to assist students pursuing nursing and allied health care careers," said Sturgis.
PNC recently provided the college with a second $50,000.00 gift through the bank's Match Program.
According to CSM officials, in the last few years the CSM Foundation has raised more than: $500,000 in private funds to build the St. Charles Children's Learning Center at the La Plata Campus; $200,000 in support of athletic equipment and programs; $800,000 in scholarships for CSM students; and $550,000 in matching funds for technology.