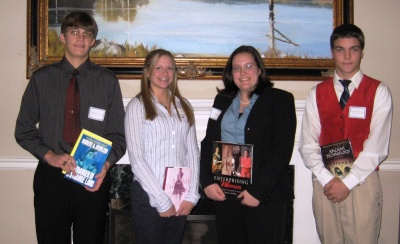 Students with outstanding academic achievement from four local high schools were recognized on November 8 with a book award from the Phi Beta Kappa Society, Zeta of Maryland Chapter, at St. Mary's College of Maryland. Photo, from left to right: Andrew Rohland (Great Mills), Megan Harvey (Leonardtown), Jessica Guy (Chopticon), and Ryan Grohsmeyer (St. Mary's Ryken). Photo credit: Barbara Woodel
ST. MARY'S CITY, Md. (Nov. 29, 2007) - Wisdom, morality and scholarship are the traits that get you into one of the nation's most exclusive clubs. Books are the keys that get you into the clubhouse. The Zeta Chapter of Phi Beta Kappa's (PBK) honor society at St. Mary's College of Maryland honored four high school seniors at a ceremony on Thursday, Nov. 8. at the College.
Honored for their scholarship and citizenship were: Ryan Grohsmeyer from Callaway, Maryland (St. Mary's Ryken High), Jessica Guy from Bushwood, Maryland (Chopticon), Megan Harvey from Hollywood, Maryland (Leonardtown) and Andrew Rohland from St. Inigoes, Maryland (Great Mills). The students received a new book selected especially for them as an award for their accomplishments. Book selections were made by Celia Rabinowitz, director of the College's library.
Lois Stover, who serves as the president of PBK at the College this year, said, "High school honor society advisers and principals select one student from each school for us to honor. Students are selected on their outstanding academic achievement plus their expression of what the liberal arts and what membership in Phi Beta Kappa represents: a broad education reinforced by good moral character." Stover is a professor of educational students at the College.
The College president, Maggie O'Brien, delivered opening remarks and talked about her life-long love of books. Her favorite book store is in Oxford, England, where the College has an international study program. She confessed to buying more books than she had room for in her suitcase.
The book presentations were made by Lee Capristo, director of publications. This was the tenth annual book award ceremony given by the College's Zeta chapter. Phi Beta Kappa was formed on Dec. 5, 1776 at the College of William and Mary in Virginia. Graduating college seniors with superior grades are nominated by their professors for induction.