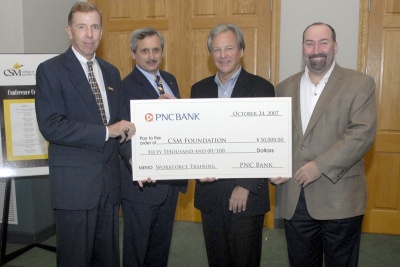 Through a matching gift program, PNC Bank has provided $100,000 over two years to the College of Southern Maryland in support of workforce development. Funds were matched with new corporate donations and new alumni gifts during 2006 and 2007, with the second match presented to the college Oct. 24. From left are PNC Regional President William Sturgis, CSM President Dr. Brad Gottfried, and CSM Foundation Directors Mike Besche and Don Parsons.
LA PLATA, Md. (November 29, 2007)—PNC Bank has gifted $50,000 to the College of Southern Maryland (CSM) through the PNC Match Program. The two-year initiative offers a dollar-for-dollar match for all new corporate donations and double-matches new alumni gifts up to a combined total of $50,000.
During the past two years, the bank has provided a total of $100,000 to the fund, including $50,000 in 2006.
The funds will be used to support the college's workforce development programs and projects.
"This investment will help to prepare Southern Maryland residents for the increasingly challenging and technologically advanced business world," said PNC Bank Southern Maryland Regional President William Sturgis. "It will also help create a vibrant local workforce with strong community connections to help promote the region's economic development."
"PNC's generosity to the College of Southern Maryland is truly appreciated as the college works to support workforce training in our community," said CSM President Dr. Brad Gottfried. "PNC understands that investing in CSM students today translates into a healthier economy for Southern Maryland in the future."
The PNC Financial Services Group, Inc. is a financial services company providing retail and business banking; specialized services for corporations and government entities, including corporate banking, real estate finance and asset-based lending; wealth management; asset management and global fund services.
The CSM Foundation promotes academic excellence, growth, progress and the general welfare of CSM by raising and managing funds, and by providing support to strengthen and develop the college and its objectives.