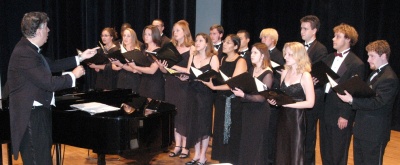 St. Mary's College of Maryland Choir under the direction of Larry Vote. (SMCM Photo)
ST. MARY'S CITY, Md. (November 29, 2007) - St. Mary's College of Maryland's (SMCM) choir and orchestra will perform G. F. Handel's "Messiah" an oratorio, on Sunday, Dec. 2 at 3 p.m. under the direction of Larry Vote. The concert will be in the Athletics and Recreation Center (ARC) on the north campus.
The concert is free and open to the public. Large groups and children are welcome.
Over 100 artists will come together as choir and orchestra to perform the choral masterpiece that tells the story of Christ's life and resurrection. Messiah was first performed in Dublin in 1742. It is Handel's most famous work and among the most popular works in Western choral literature.
"The choir will include guest artists singing alongside our students - whose young voices bring a freshness to this holiday favorite," said Vote. Guest vocalists include Roger Isaacs, a counter-tenor from Washington, D.C. who performs at the National Cathedral, Mike O'Ryan, baritone, Joan McFarland soprano, and Sterling Lambert, tenor.
Vote is provost and professor of music at St. Mary's College of Maryland. He will direct the choir of eighty voices. Vote is an accomplished vocal soloist and conductor. He has performed throughout the United States and Europe. As a member of the Tidewater Ensemble he has performed in Carnegie Hall, The Kennedy Center, the Baltimore Museum of Art, and Jordan Hall in Boston.
This is the second year the College has staged Messiah for a large audience in the ARC. Seating will be in chairs and on the bleachers.
Guests are asked to use the Mattapany Road entrance off Route 5 in St. Mary's City.