Charles County Administrator Re-Elected President of Maryland County Administrator's Association
Charles County Administrator Paul W. Comfort, Esq. has been re-elected as President of the Maryland County Administrator's Association. Mr. Comfort was re-elected for an unprecedented fourth consecutive term by his peers at the recent Maryland Association of Counties Administrators and Attorneys Conference held in Annapolis, Maryland.
Mr. Comfort stated, I am humbled by the confidence shown to me by my peers from around the state and hope to use this term of office to continue to focus Maryland county governments' attention on issues of sustainability such as green buildings, water and wastewater reuse and bio fuels in addition to helping counties throughout our state grapple with declining revenues through improved governmental efficiencies and greater operational and financial accountability of internal and external agencies funded by county governments.
Maryland Association of Counties Executive Director David Bliden said of Comfort's re-election, Paul has demonstrated profound leadership during his past three terms of office for all of Maryland's Administrative Officers and I look forward to continuing to work together with him to help Maryland county governments learn best practices from each other and forge ahead in challenging times."
"It is a pleasure to see Mr. Comfort be reappointed to a position that he has done an outstanding job in. It highlights Charles County's leadership role in the State," said Commissioner President Wayne Cooper. He continued, "The Commissioners support Mr. Comfort in this endeavor and we are very proud of his accomplishments."
-----
Oxon Hill Bicycle and Trail Club Makes Presentation to the County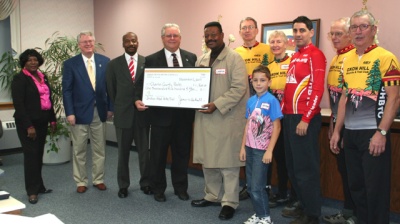 The Oxon Hill Bicycle and Trail Club presented the County Commissioners with a check for $1,500 that will be used to help with the construction and enhancement of the Indian Head Bike Trail. When complete, the trail will stretch from La Plata to Indian Head and will be available for used by bicyclists and hikers. (Photo by George Clarkson, Press Secretary, Charles County Government)
-----
Commissioners Present Proclamation to the Tri-County Animal Shelter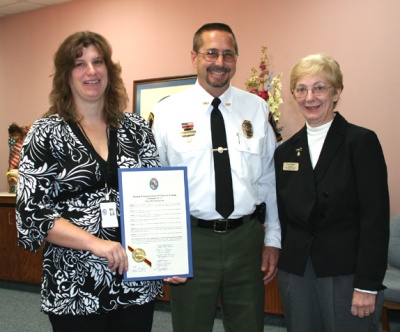 (Left to Right) Kim Stephens, Tri-County Animal Shelter Supervisor, Edward Tucker, Chief of Animal Control Services, and Jean Stuller, Manager of the Humane Society of Charles County, received a proclamation from the Charles County Commissioners in recognition of National Animal Shelter Appreciation Week, November 4-10. The yearly event, sponsored by the Humane Society of the United States, is in recognition of all of the hard work that shelters do on behalf of animals and is meant to encourage communities across the country to show their support for their local animal shelter. (Photo by George Clarkson, Press Secretary, Charles County Government)
-----
Nothing But Net for the County Commissioners at Melwood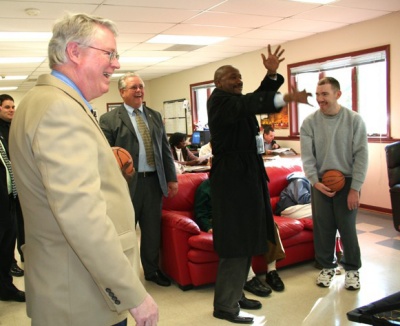 County Commissioners Reuben Collins, II, takes time to shoot a three-pointer at the Melwood Activity Center during a recent visit by the County Commissioners. The visit was part of a fact finding tour to give the Commissioners a better understanding of how they can help the mentally and physically challenged find work in Charles County. (Photo by George Clarkson, Press Secretary, Charles County Government)
-----
Cable Advisory Commission to Meet November 27
The next meeting of the Cable Advisory Commission will be on Tuesday, November 27, 2007, at 6 p.m. in the Commissioners' Meeting Room of the Charles County Government Building.
The Commission, created by the Cable Ordinance, includes five members appointed by the County Commissioners. The duties of the Advisory Commission can be found on page 81, Section 17 (c) of the Cable Ordinance, which can be accessed on the County website at www.charlescounty.org.