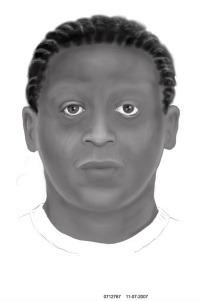 The Charles County Sheriff's Office is looking for a man who matches this police sketch. Police say he tried to abduct a female child in Waldorf on Thursday.
LA PLATA, Md. (November 8, 2007)—Charles County police reported that a man tried to abuct a 10-year-old girl today around 3:30 p.m. in the 4500 block of Clayton Court in Waldorf as she was walking home from her school bus stop. The girl made it home safely and police are searching for the alleged perpetrator.
According to police, as the girl was walking home, a white van with blue lettering approached her. The driver, a heavy-set black male in his late 20s with dreadlocks, first asked the girl for directions and then asked to give her a ride. As the girl continued walking, the driver exited the van and then reached for something in it, threatening to shoot her if she did not get in the van. The girl continued walking and made it home without further incident and told a parent, who notified the police.
Police also say that their subsequent investigation revealed that another girl who lives in the neighborhood had a similar encounter with the same vehicle two or three weeks earlier in which a driver with the same description asked her for directions. The incident was not initially reported to the police.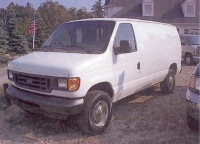 The man featured in the composite sketch above is believed to have been driving a van similar to the one pictured here.
Charles County Sheriff's Office deputies have increased patrols in the area in response to the incident.
The van is a Ford Econoline described as having blue lettering on the side panel which may contain the word "parts." Anyone who sees the van or has information is asked to contact the Charles County Sheriff's Office at 301-932-2222. Those with information may also contact the investigator, Det. J. Pratta, at 301-609-6491 or the Special Victims Unit at 301-609-6514.