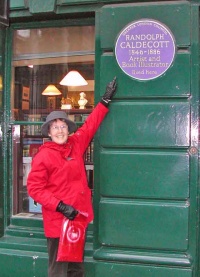 While sightseeing on foot in Russell Square area in London in March 2004, Sue Gibbs, children's librarian at Lexington Park Library happened to come across the former home of Randolph Caldecott, the famous illustrator of children's books for whom the Caldecott Metal Award is named in honor of. As it turns out, Gibbs was recently appointed to the prestigious Caldecott Medal Selection Committee, a dream of hers. Photo by Rob Gibbs.
LEXINGTON PARK, Md. (November 6, 2007)—Sue Gibbs, a children's librarian at the Lexington Park Library, has been appointed to the 2009 Caldecott Award Selection Committee. The committee is responsible for selecting the winner of the Caldecott Medal which is awarded annually to the artist of the most distinguished American picture book for children.
Only fourteen librarians across the country serve on this prestigious committee of which seven are elected and seven are selected by the American Library Association.
"This is an honor not just for Sue but for our county and our state," noted Kathleen Reif, Director of the St. Mary's County Library. "I can only think of a few from Maryland who have been selected for this very prestigious and important assignment."
Gibbs was selected based on her expertise in children's literature and experience in recommending children's books. As a committee member, Gibbs will be responsible for reading the picture books published in 2008 and participating in the selection of the Caldecott winner who will be announced in January 2009.
"As a child's introduction to the world of stories, picture books are enjoyed by youngsters and fondly remembered by adults," Gibbs states as she explains her passion for picture books. "I admire illustrators' talent for their ability to interpret and add to the overall appeal of good literature for young children."
Besides picture books being Gibbs's passion, she has dreamed of being on the Caldecott committee ever since she heard a Maryland librarian describe her experience with a Caldecott committee at a library conference.