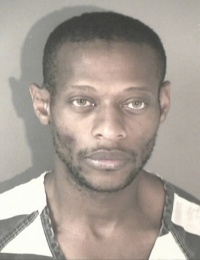 LEONARDTOWN, Md. (November 1, 2007) - A Calvert County man now finds himself in jail after robbing a Lexington Park bank for the second time in little over one month. However, this time, the man seriously endangered the lives of two bank clerks when he threw gasoline on them before demanding money.
On Wednesday, October 31, at approximately noon, police say Antonio Warren Gantt (pictured at top left), 40, from St. Leonard, Maryland, entered the Maryland Bank and Trust on South Shangri La Drive in Lexington Park, jumped over the counter, threw gasoline on 2 clerks and demanded money. The clerks complied and Gantt fled with a large amount of money.
Gantt obtained a taxi cab and was traveling on Md. Route 4 towards the Thomas Johnson Bridge when he was apprehended without incident by local police.
Gantt was also wanted by St. Mary's County Bureau of Criminal Investigations (BCI) detectives for the September 25th robbery at the same bank. After that robbery, police say Gantt fled the state.
BCI detectives charged Gantt with 1st Degree Assault, Theft, and 2 counts of Armed Robbery. Additional charges are forthcoming.
The stolen money was recovered by detectives.
Gantt is currently incarcerated at the St. Mary's County Detention Center.
RELATED INFORMATION:
St. Mary's Police on Lookout for Lexington Park Bank Robber, Sept. 26, 2007
http://somd.com/news/headlines/2007/6453.shtml