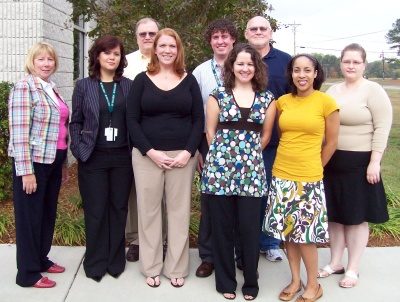 Walden Outpatient Addictions Team: From left, Kathleen O'Brien, Ph.D., Executive Director; Dina Beasley, MSAP (Maryland Student Assistance Program) Counselor; Rob Prince, Outpatient Addictions Supervisor; Kori Summers, Addictions Counselor; Patrick Walsh, Addictions Counselor; Joanna Kenlon, Addictions Counselor, Mike Zeigler, Lead Addictions Counselor; Veronica Gonzalez, Drug Court/Addictions Counselor; Sharon Sorrell, Addictions Counselor.
LEONARDTOWN, Md. (November 1, 2007) - The Maryland Alcohol and Drug Abuse Administration (ADAA), a division of the Department of Health and Mental Hygiene, announced recently that Walden's outpatient substance abuse treatment program showed success rates higher than those of all other publicly-funded programs across the state based on a performance study conducted this year.
Data from the ADAA study show that in St. Mary's County 78.7% of Walden/Sierra's outpatient substance abuse clients remained in treatment 90 days or longer, compared to 60% statewide. Additionally, St. Mary's County clients had a 65.2% successful discharge rate, compared to 43% statewide.
"I am tremendously proud of our addictions counselors. They are dedicated, compassionate professionals who bring that energy to their work with people struggling with addiction. I am also in awe of the courage our clients demonstrate as they work to achieve and maintain sobriety," said Kathleen O'Brien, Ph.D., Executive Director of Walden in a prepared statement. "Our goal at Walden is to help people with drug and alcohol addictions stay in treatment long enough to recover and become healthy, productive members of society, and these ADAA statistics are a great indicator that our efforts are working."
Walden's outpatient addictions services include assessments/screenings, individual and group counseling for adolescents and adults, intensive outpatient services, dual diagnosis groups, adolescent drug court services and DUI/DWI education and treatment. Walden counselors also provide community-based services in local schools, the courts, the Department of Social Services and the detention center to reach out to those in need.
Walden/Sierra is a nonprofit behavioral health agency that has been providing comprehensive substance abuse treatment, crisis intervention and trauma counseling services for St. Mary's County and surrounding communities since 1973. The 24-hour crisis hotline, sponsored by the St. Mary's County Government, can be reached at 301-863-6661.