Commissioner Patterson to be Featured on International Radio Program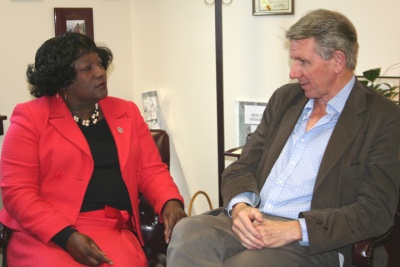 Commissioner Vice President Edith Patterson speaks with BBC reporter Julian O'Halloran about diversity and race relations in Charles County.
Charles County Commissioner Vice President Edith J. Patterson recently completed a radio interview for "File on 4," the principle current affairs documentary program airing weekly on the British Broadcasting Corporation (BBC) network in the United Kingdom. Commissioner Patterson's views on race relations and diversity in Charles County will be incorporated into a "File on 4" segment examining issues of race and diversity in the United States, at the neighborhood and political levels.
BBC reporter Julian O'Halloran and "File on 4" producer Ian Muir-Cochrane talked with Commissioner Patterson about the first-ever Charles County Diversity Forum, "Unity in Our Community," held earlier this year. During the 45-minute interview, Commissioner Patterson identified the goals of the Blue Ribbon Commission and the group's plans to tackle diversity issues within the County. She also emphasized the County's positive and unified response to racist graffiti and threats occurring in Charles County between 2004 and 2006.
The "File on 4" segment featuring Commissioner Patterson's interview is scheduled to air on Tuesday, October 30, 2007 on BBC radio network.
-----
Commissioners Recognize Maryland District 7 Baseball Team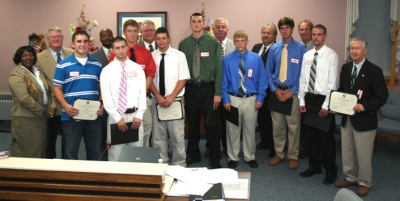 The Charles County Commissioners recently paid tribute to the Maryland District 7 Baseball Team in presenting a Certificate of Recognition to all players and coaches during their weekly meeting. The team won the 2007 State and Eastern Regional Baseball Championships, and made an appearance in Big League Amateur World Series. The team is coached by Mike Cross.
-----
Commissioner Graves Meets with Local Girl Scout Troop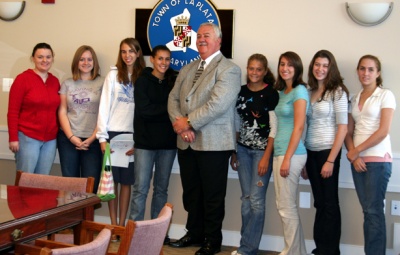 County Commissioner Samuel N. Graves, Jr., recently engaged in conversation with members of a local Girl Scout Troop to address several questions about issues that impact their community. The Girl Scouts of Troop #1438 asked Commissioner Graves about a range of topics, including commercial development in La Plata, projected population growth, and homelessness in Charles County. The leaders of Girl Scout Troop #1438, Barbara Weiss and Judy Durner, were also in attendance. The discussion was held at the La Plata Town Hall on Friday, October 19.
The eight girls in Troop #1438 are local high school students that are working to obtain the "Gold Award," the highest award presented by Girl Scouts. There is a three-step (bronze, silver, and gold) process for earning a "Gold Award," which takes about five years to complete and includes a 60-hour service project requirement.
-----
Governor Martin O'Malley Addresses 10th Annual Charles County Economic Summit
Governor Martin O'Malley was the keynote speaker during the 10th Annual Economic Summit held on Tuesday, October 23, 2007, at the Greater Waldorf Jaycees Community Center. Lieutenant Governor Anthony Brown was also in attendance.
Governor O'Malley addressed Charles County's ongoing prosperity, the County's role in the larger regional economic picture, and how his administration can further facilitate development in Charles County.
The theme for this year's Summit, "Building a Foundation for Progress," focused on the County's progress as it relates to the economy, infrastructure, the defense industry, partnerships, and the overall quality of life in Charles County and Southern Maryland.
Attendees heard presentations on those issues from representatives of the public and private sectors. Again this year, electronic voting allowed the audience to weigh-in on related topics.
Other featured guest speakers included Economist Anirban Basu, and Baseball Hall of Famer Brooks Robinson.
Basu is the Chairman and Chief Executive Officer of Sage Policy Group, Inc., an economic and policy consulting firm in Baltimore. He is one of the Mid-Atlantic region's leading economic consultants and will analyze Charles County's economic outlook. Mr. Basu is also the author of numerous publications, including Outlook Maryland, the Mid-Atlantic Economic Quarterly, and the Baltimore Economic Digest.
Baseball Hall of Famer Brooks Robinson will also be on hand to discuss the impact of the new County stadium and entertainment complex as a quality of life asset for the community. Robinson is an investor with the Southern Maryland Blue Crabs baseball team.
Known as the "Human Vacuum Cleaner" during his playing days with the Baltimore Orioles, Robinson established a standard of excellence for modern-day third basemen. He played 23 seasons for the Orioles, setting major league career records for games, putouts, assists, and fielding percentages. A clutch hitter, Robinson totaled 268 career home runs.
-----
Charles County Sheriff's Office Announces Grant from Target
The Charles County Sheriff's Office was recently awarded a $1,000 grant from Target to enable the purchase of bicycles for the juvenile resource officers assigned to Charles County public schools.
A juvenile resource officer is assigned to each public high school and middle school to promote positive interaction between law enforcement and the students of Charles County. Officers administer programs that build self esteem, provide guidance that encourages good decision making and teach students to be positive role models in the community. These officers work closely with the administrative staff, teachers and students in their schools to provide prevention programs including Safe Schools, Truth and Consequences, Drug Abuse Resistance Education (DARE) and the Summer Youth Achievement Program. They are able to provide a quick response to incidents that occur in the schools. Bicycles help them patrol their schools.