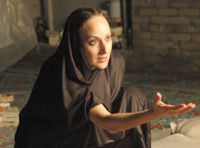 ST. MARY'S CITY, Md. (Oct. 16, 2007) - On Tuesday, Oct. 16, Heather Raffo will perform monologues from her award-winning "9 Parts of Desire," a play about Iraqi women. The performance is at 8 p.m. in St. Mary's Hall on the campus of the St. Mary's College of Maryland (SMCM) and is free and open to the public.
Called "powerful, impassioned, vivid, memorable" by the New York Times and hailed by The New Yorker as "a triumph," the play touches on themes contemporary and ancient, artistic and philoso-phical, personal and political. Through the monologues and in discussion with the audience, she will introduce Iraqi women with a wide variety of experiences. Raffo's father is Iraqi and her mother is American, so she brings a unique perspective to the relationship between the two countries and cultures.
Raffo received the Susan Smith Blackburn Prize Special Commendation and the Marian Seldes-Garson Kanin Fellowship for "9 Parts of Desire." Most recently she received a 2005 Lucille Lortel award for Best Solo show as well as an Outer Critics Circle Nomination and a Drama League nomination for Outstanding Performance.
As an actress, Raffo has appeared as Sarah Woodruff in the world premiere of "The French Lieutenant's Woman" at the Fulton Opera House on Broadway. She has played many roles at The Old Globe Theatre in San Diego. She received her BA from the University of Michigan, her MFA from the University of San Diego and studied at the Royal Academy of Dramatic Art, London. Originally from Michigan, Raffo divides her time between New York and Los Angeles.
This event is sponsored by the College's Center for the Study of Democracy, Arts Alliance, Women, Gender and Sexuality Studies, the Political Science Department, the Art Department, Theater, Film and Media Studies, and Philosophy and Religious Studies.