Former Vice President Wins Nobel Prize For His Work Combating Global Warming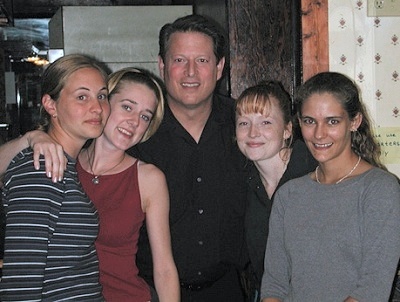 Former Vice President Al Gore poses with the ladies from the Willows Restaurant in Leonardtown on May 8, 2001. Gore was visiting Leonardtown to watch his son compete against Ryken H.S. in lacrosse. (Photo courtesy of The
Willows Restaurant
)
OSLO (Oct. 12, 2007) - The Nobel Peace Prize was awarded today to the United Nation's Intergovernmental Panel on Climate Change (IPCC) and Albert Arnold (Al) Gore Jr. "for their efforts to build up and disseminate greater knowledge about man-made climate change, and to lay the foundations for the measures that are needed to counteract such change."
Southern Maryland's U.S. Representative, and House Majority Leader, Steny H. Hoyer (D) released the following statement today congratulating Gore:
"Former Vice President Gore has performed an invaluable - and perhaps incalculable - service to our nation and to humanity by raising public awareness about global warming and the potentially dire consequences of failing to address this issue without delay. I congratulate Vice President Gore for receiving this richly deserved honor for his very important work.
"We simply cannot ignore an issue of this magnitude - an issue that involves the future of our planet and confronts the entire human race. I strongly believe that the United States can, and must, lead in developing clean technologies that not only preserve our planet for our children and grandchildren but also provide widespread economic benefits to the American people."
Since regaining control of the House and Senate in 2006, Hoyer and the Democratic Party have been proposing an advanced alternative energy research project on the scale of the Manhattan Project, the massive World War II program to develop the first nuclear weapon before the Nazis could do the same. Hoyer sees the program as necessary to relieve the United States' "addiction to foreign sources of oil."
Employing renewable sources of energy such as hydrogen, solar, and wind, that reduce or eliminate the need to burn carbon-based fuels, such as oil and coal, will have a major positive impact on the global warming crisis, according to the world's scientific community.
RELATED INFORMATION:
Hoyer Announces Move To Eliminate Our Addiction To Foreign Sources Of Oil, March 2, 2007
http://somd.com/news/headlines/2007/5500.shtml
Congress Finally Ready to Make Serious Move on Alternative Fuel Strategy, July 10, 2006
http://somd.com/news/headlines/2006/4075.shtml