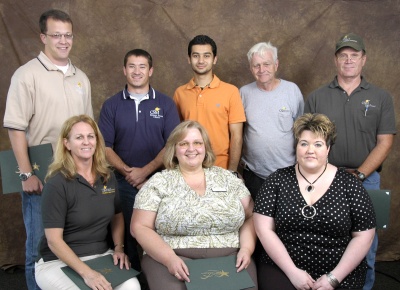 Customer service awards were presented to, front row from left, Eileen Richards, Georgia Neill, Sarah Grow and, back row from left, Christopher Storey, Randy Carlson, Amin Asemani, Jim Rhodes and Don Posey during CSM's Employee Recognition Awards. (CSM Photo)
LA PLATA, Md. (Oct. 9, 2007)—The College of Southern Maryland recognized 28 employees who have made significant contributions to the college's success during the past six months. At a reception on Tuesday, Sept. 25, at the La Plata Campus, employees were recognized for their accomplishments and actions in response to the college's five principles of creativity, knowledge, integrity, partnership and respect.
Part of the college's Employee Recognition and Awards Program, the reception gives staff and faculty the opportunity to recognize their co-workers' excellence. There are seven categories for the awards including Customer Service, College/Community Service, Leadership, Extra Mile, President's, Professional Goal Attainment and Innovative Teaching. The awards are open to individuals, groups and teams.
The Customer Service Award recognizes employees who have provided quality service and have ensured customer satisfaction. A team award was presented to Georgia Neil and Sarah Grow for their dedication to providing exceptional customer service in the CSM financial aid department during the launch of a new college-wide server. A team award was also presented to Christopher Storey, Amin Asemani, Randy Carlson, Don Posey, Jim Rhodes and Eileen Richards for the assistance they provided to install lights in the college's swimming pool.
The Extra Mile Award recognizes employees who have made significant contributions over an extended period of time. Individual awards were presented to Ronda Jacobs and Perry Taylor. Jacobs was recognized for her research, testing and presentation of robotics kits to instructors within the college's personal enrichment department. Jacobs' efforts added to the success of the Kids and Teen College course "Robotics: The Next Adventure II." Taylor was recognized for working with local vendors and the University of Maryland to replace outdated broadcast equipment in CSM's distance learning rooms. A team award was presented to Taylor, Butch Howard, Tony Bates, Jamie Lish, Dennis Thrift, Pat Harris and Emmitt Woodey who dealt with the transportation, set-up, operation and break-down of CSM's sound system during the college's Twilight Performance Series which was held on each of the three campuses during July.
The Innovator Award recognizes efficiencies that save the college substantial money or work; improve student educational experiences; or are ideas and projects that lead the college in a new direction. A team award was presented to Kenneth Bays, Don Posey, Francis Duckett, Jim Rhodes, Jim Leapley and Craig Schmitt for fixing the fine arts department's 500-pound clay mixer. Their efforts saved the college $5,000.
The College/Community Service Award recognizes substantial college and/or job-related volunteer services within the college or community. An individual award was awarded to Linda Smith for her research, development and planning of CSM's Sexual Awareness Month. One of the events, a clothesline project, had CSM students designing and hanging color-coded T-shirts denoting acts of violence in which the victim's gender, race or sexual orientation played a role.
The President's Award is given to employees responsible for a project or a major accomplishment that supports the college's strategic plan or promotes the college's initiatives and goals. An individual award was given to Anita Warnes for implementing and assisting in the training and production of the college's new student, faculty and staff identification cards.
The Professional Goal Attainment Award recognizes employees who have achieved a job-related educational or professional goal. Individual awards were presented to Velvet Johnson and Jennifer Butler. Johnson was recognized for obtaining her associate's degree in accounting from Western University while Butler earned a master's of arts in history and a master's of library science from Catholic University.
The Innovative Teaching Award recognizes individual faculty members who have improved the educational experiences of students and, in doing so, have moved the college forward in a strategic direction. An individual award was presented to Laura Martin for her planning of community events, including Community Fun Day at Nicolet Park, and her dedication to her students.
The college's Leadership Award was not presented this period. The award recognizes employees who have applied strong leadership skills to the success of a curricular project, committee responsibility, administrative project or major college activity.