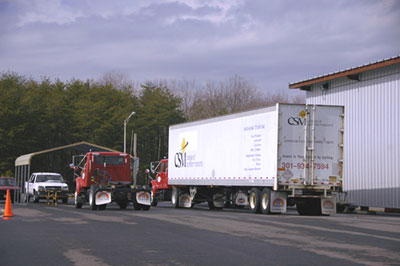 CSM's Industrial Training Center provides facilities for the Driver Training Programs and other industrial training programs. (CSM Photo)
LA PLATA, Md. (Oct. 9, 2007)—Noting that careers in the trades and transportation industries are projected to be two of the fastest growing fields in Southern Maryland over the next 10 years, with an estimated growth of 4,600 jobs expected, the College of Southern Maryland recently celebrated the expansion and opportunities available through its Industrial Training Center (INTC) on Radio Station Road in La Plata.
Regional employers, elected officials and former CSM students joined faculty, staff and students on Tuesday, Sept. 25, for celebratory remarks as well as a tour of the college's new industrial training classrooms and expanded driving range.
"In this economy, human skills are subject to obsolescence at an unprecedented rate… [So,] we decided to move towards a culture where skill development is constant and our training and educational programs are broader and sustained," said Lock Wills, president of the Wills Group which owns So. Md. Oil (SMO) among others. Wills' company has partnered with CSM to develop the Shymansky Institute, which provides state-of-the-art HVAC and industrial training for both SMO staff and individuals interested in a career in the HVAC service business in Southern Maryland.
"While we may be called steering wheel-holders on the road, there is more to commercial driving than most would guess," said John Chesley Jr., a CSM CDL graduate and Southern Maryland Oil transport driver. Chesley noted that he had wanted to drive commercial trucks since he was a small boy. "I have learned in the last 12 years, since I received my certificate and CDL license, that there is more responsibility driving a commercial combination vehicle than just regular driving."
Paul Yeatman, a field recruiter for USxpress noted that the college and regional trucking companies have developed a symbiotic relationship over the years that is now blossoming. "The need for truckers is growing at such an incredible pace that easily 300 drivers a month could be hired regionally," said Yeatman, who recruits drivers directly out of CSM's program. "CSM's driver training is the real deal. The training is short, thorough, fairly inexpensive and the students come out with a real career and a competitive salary."
According to Mary Beth McCollum, CSM's transportation course manager, the college has developed 70 new construction and technical skill training classes in the last five years. "CSM's industrial training programs have trained 1,500 students thereby fulfilling local, regional and national workforce needs…the road to today's success has had its obstacles. Our partners have helped us navigate those bends and we thank you for your support," said McCollum. McCollum's husband Eric "Mac" McCollum is the lead instructor of CSM's commercial truck driver training.
"It is a wonderful program and I am so pleased to be part of the celebration," said Sean Foye of Waldorf, a CSM CDL driver training graduate. "Mac gave me the freedom to make mistakes and learn how to correct them. This program helped me develop confidence behind the wheel."
"The rules, the regulations, the safety skills, these are things you have to learn, and can learn at CSM. What you can't learn is a love for the road, the need to be outside. I am very proud of what I do," Chesley told current students following the ceremony.
The college began offering training in commercial truck driving in 1992. The training was moved to its current site on Radio Station Road in 2000 to expand offerings in the industrial trades. Today in addition to the commercial truck driver training, the college offers motorcycle safety and heavy equipment training at the facility.
For information call 301-934-7870 or 301-870-3008, Ext. 7870 for Charles County; 240-725-5499, Ext. 7870 for St. Mary's County or 443-550-6199, Ext. 7870 for Calvert County or visit
http://www.csmd.edu/About/campuses/Industrial/.