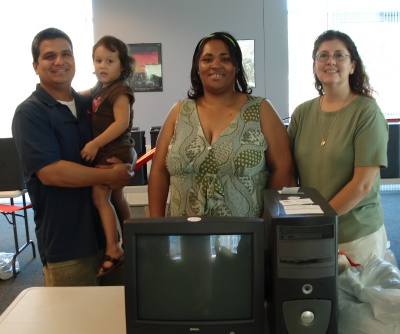 Sofie Rodriguez held by her father, Fernando Rodriquez, was the youngest winner of a computer in the giveaway conducted by St. Mary's County Library recently. With her are Faith Gross and Debra Webster, two other winners present at the drawing. Their names were drawn from thousands who entered hoping to win one of the 20 refurbished computers donated by SMARTCO and the 6 MP3 players donated by Best Buy.
LEXINGTON PARK, Md.—The crowd assembled at the Lexington Park Library for a downloading how-to program on Sunday, Sept. 23, anxiously awaited the drawings for the computers and MP3 players that were being given away by the St. Mary's County Library.
SMARTCO and Best Buy partnered with the library to make this giveaway possible. SMARTCO donated 20 refurbished computers and a laptop and Best Buy donated six MP3 players. SMARTCO is a local non-profit consortium which recycles and donates computer equipment to those without means to afford them.
Thousands entered the free drawing. The only requirement was the entrant had to have a library card.
Three winners were present; Sofie Rodriguez, the youngest winner in the giveaway, Faith Gross and Debra Webster, and each left with a complete computer system.
Sherida Maddox won the laptop. The computer winners were Eunice Cole, Katie Phippen, Haley Pitcher, Monica Price, Sofie Rodriguez, and Sophie Wathen from the Charlotte Hall Library; Michael Bonds, Alanna Daley, Marsha Gordon, Michael Post, Aparna Sajja, Gregory Sowa, and Angelita Woodland from the Leonardtown Library; and Sabrina Ferrall, Faith Gross, Matthew Hane, Zachary Reavis, Bernadette Stephenson, Moses Weaver, and Debra Webster from the Lexington Park Library.
The winners of the six MP3 players were Marcus Pickeral and Michelle Briscoe from Charlotte Hall Library; Stephanie Miller and Anne Saunders from Leonardtown Library and Jemaine Cyrus and Won Cha from Lexington Park Library.