By KENNETH R. FLETCHER, Capital News Service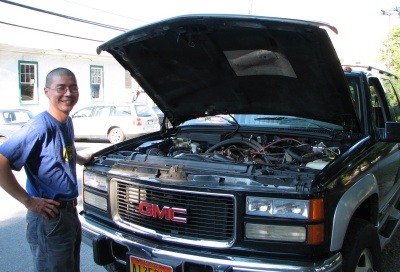 Frank Chu poses with the 1994 GMC Suburban he modified to run on the waste vegetable oil that he collects from a local restaurant. Montgomery County recently started an online forum to connect restaurants and grease-car enthusiasts like Chu. (CNS Photo/Kenneth R. Fletcher)
BETHESDA - Like most restaurants, the Barking Dog tavern fills up a metal drum with grease that has fried its share of wings, then pays to have the old oil hauled away by a rendering company.
But the Barking Dog also siphons some of the used oil back into 5-gallon jugs and leaves them by a rear exit, hoping someone will pick the oil up and pour it into their car.
It's not a prank, but part of what is believed to be a first-in-the-nation government effort to link up restaurants that want to dispose of waste oil with enthusiasts who need it to fuel cars modified to run on the grease.
"For me it's a very practical application. I've got the grease sitting here," said Barking Dog owner John McManus, who would otherwise spend about $300 a year to get rid of the used oil.
The Barking Dog is the first restaurant to join an online forum that the Montgomery County Department of Public Works created in August after drivers started calling the county looking for used vegetable oil. Rather than bringing oil seekers to the county's crowded disposal area, the exchange hopes to send grease-car owners directly to restaurants, said Rick Dimont of the Montgomery County Division of Solid Waste.
Such a grease-swapping post has been eagerly sought by people like Frank Chu, an architect from Rockville.
Chu bought a diesel 1994 GMC Suburban two years ago and had it modified to run on straight vegetable oil after immersing himself in the Internet subculture of alternative-fuel enthusiasts. The conversion can be done on any diesel car with kits ordered online for around $1,000.
The Suburban has two fuel tanks, one for diesel and another that Chu fills up by pouring vegetable oil from plastic jugs into a funnel. The engine runs for several minutes on diesel after starting, heating the oil until it is fluid enough to use. An automatic temperature sensor switches to the second tank and vegetable oil flows into the engine.
The car runs smoothly as the tailpipe belches French-fry-flavored exhaust.
Chu estimates that he spends 10 to 15 hours a week on his hobby, including the time it takes to pick up waste oil, run it through pantyhose and denim to filter out particles left after the frying process and let it settle to separate the water from the oil.
He does not get his grease from the Barking Dog but relies on a Rockville restaurant he found on his own, before the forum was created.
While Chu gets the same 14 miles per gallon around town that he would with regular diesel, he gets his fuel for free. The car and conversion kit have paid for themselves in the 11,000 miles he has driven, he said.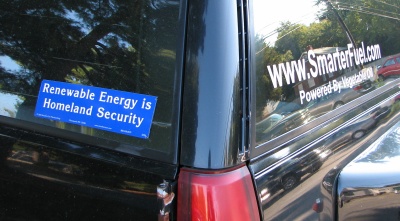 Bumper stickers declaring his support for renewaable energy are displayed on Frank Chu's 1994 GMC Suburban, which has been modified to run on used vegetable oil. A new online forum attempts to link grease car enthusiasts with restaurants, which would otherwise have to pay to get rid of the oil. (CNS Photo/Kenneth R. Fletcher)
Advocates claim that vegetable oil is a "carbon neutral" fuel, ideally emitting no more carbon into the air than is taken up by the plants grown to produce the oil, and not contributing significantly to the buildup of greenhouse gases.
But because of the legal gray area the fuel is mired in—the Environmental Protection Agency has yet to approve its use—and the potential for engine damage if used improperly, state officials say they are not yet endorsing the fuel.
"It's kind of odd. It hasn't really been accepted or unaccepted by the state," said Chris Rice, transportation program manager at the Maryland Energy Administration.
"We really have to be careful with what we promote," Rice said. "I'm not saying it's a bad idea and not saying it's a good idea."
Grease-car enthusiasts, who are modifying diesel engines in growing numbers as fuel prices rise, think Montgomery County is taking a step in the right direction.
"I think it's great that the government is recognizing it on some level," Chu said of Montgomery's online forum. "It's an oddity at this point."