By DAN LAMOTHE, Capital News Service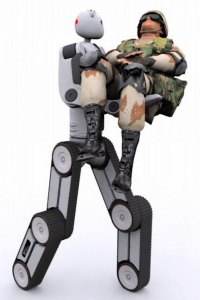 The Battlefield Extraction-Assist Robot, developed by Vecna Technologies of College Park, is under development with the goal of one day saving wounded soldiers on the battlefield. Photo courtesy Vecna Technologies.
COLLEGE PARK, Md. - What costs as much as a luxury vehicle, has cute, rounded ears and generates punch lines for late night comedians?
A quirky robot developed by a Maryland company that may one day save lives.
Vecna Technologies Inc., of College Park, began developing the Battlefield Extraction-Assist Robot in the late 1990s, but it has recently received a flurry of attention, with everyone from CNN to the BBC featured the project.
It was an offbeat June segment on Comedy Central's "The Colbert Report" that amused the company's owners, though. Playing off the robot's bear-shaped head and ears, political satirist Stephen Colbert called it "the No. 1 threat facing America," spawning jokes on dozens of blogs and Web sites.
Daniel Theobald, company president, said he doesn't mind. In fact, he called it "serendipity," since it brought the company's work attention.
"It was a good joke," he said. "It's OK with us if people joke about the robot's head, as long as they're not criticizing the robot's purpose. We all got a good laugh out of it."
What the robot is made to do is no laughing matter. With $1.1 million in federal money in hand, Vecna is developing it for military duty: to handle hazardous materials, perform search and rescue missions on battlefields and carry up to 500 pounds for long distances.
Theobald, who works from the company's second location in Cambridge, Mass., said the BEAR works on the principle that rescues are frequently necessary in difficult-to-reach spaces.
"With robots, it's usually like the TV commercial says, 'Wider is better.'" he said. "You can't do that (get into tight spaces) if you're building a robot that needs to go in tight spaces, up stairs and down hallways."
Instead, the company built a prototype that resembles a man, moves hydraulically, and can climb stairs with a series of tank-like tracks while carrying a human being. The current version, No. 6, weighs about 360 pounds, but can carry 500. It is controlled remotely, with cameras and microphones providing perspective on the robot's surroundings.
The price of the final product will depend on what kind of materials and batteries the military decides to use on the final model, Theobald said. The military version is likely to cost more than $200,000, while domestic versions for use in things like home health care could cost about $30,000, according to promotional material.
"The idea is to make them affordable," Theobald said. "If they're not affordable, no one is going to buy them."
Theobald said the company is also enthusiastic about making the BEAR practical for civilian use, especially after watching incidents like a June fire in Charleston, S.C., that killed nine firefighters.
"We've had several tragedies recently where you could argue that firefighters have needlessly died, since they weren't even sure there were people in the buildings," Theobald said. "They're brave, and that's their job, but our thought is, 'Hey let's send in the robots.'"
As for the bear's ears and head, Theobald said they were added in part for fun to "complete the bear theme," but also because teddy bears are a source of comfort for humans who are suffering—a point that has been mocked by some technology bloggers.
"The result looks like something which wandered out of a Japanese superhero anime," said the blog Science Made Cool. "One can easily imagine the underage child of one of the developers teaming up with the BEAR to fight bad guys."
Theobald shrugs at the jokes. "The head can always be changed."