By Larry Lutz, ALRE Program Office & Rob Koon, NAVAIR Public Affairs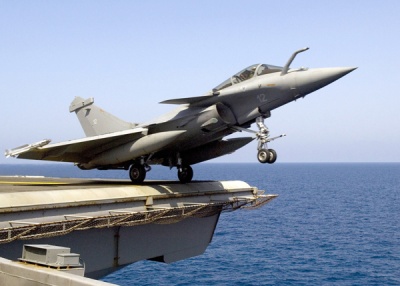 Rafale airborne from USS Enterprise (CVN 65) (July 23, 2007) U.S Navy photo by Mass Communication Specialist Seaman Brandon Morris.
PATUXENT RIVER, Md. (October 5, 2007) - The Naval Air Systems Command's (NAVAIR) Aircraft Launch & Recovery Equipment program office was a key part in a recent naval aviation milestone. On July 23, 2007 two French Rafale M multi-role fighters landed aboard and launched from the USS Enterprise (CVN 65). This was the first time that the French Rafale performed an arrested landing and catapult launch from a U. S. aircraft carrier.
Commenting on the historic event, Admiral Harry Ulrich, Commander, Naval Forces, Europe, echoed the sentiments of Vice Admiral John Stufflebeem, Commander, Sixth Fleet and Deputy commander, Naval Forces Europe, who wrote to Vice Admiral David Venlet, commander, Naval Air Systems Command, a short note of "thanks" for the superb work in making the French embark possible.
"NAVAIR/ALRE (PMA251) staff should be proud of the extraordinary effort to facilitate an historic, first ever arrested landing and catapult of a French Rafale fighter onboard USS Enterprise. Mark Gajda (ALRE principal deputy) and team put forth a superb success in execution, in a severely compressed timeline over the last month, which enabled Enterprise/CVW-1 to safely complete the crossdeck event. NAVAIR's ability to generate the launch and recovery bulletins on short notice enabled us to make an immediate and lasting positive effect on our enduring French partners. Well done to your team for all their hard work. Great support to the Fleet!!!"
Commander Steve Kreiser, Commander, Carrier Strike Group Twelve, Air Operations Officer said, 'Everything worked as advertised. Nice job by all those who helped make it come together!' A 'Thank You' from the commander noted the efforts of the NAVAIR ALRE team in 'getting the French on and off of CVN 65'. Those comments were followed by ALRE program manager, Capt. Steve 'Chewy' Rorke's additional Bravo Zulu to the team, 'Thanks for pulling this together when it was crunch time'.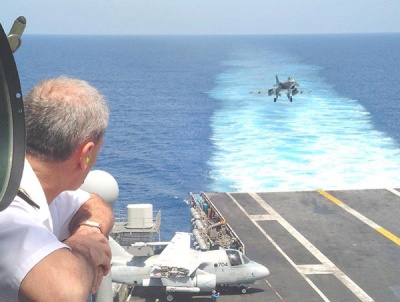 Mediterranean Sea (July 23, 2007) - Chief of French Naval Staff, Admiral Oudot de Dainville, observes a French Rafale M combat aircraft from the French nuclear-powered aircraft carrier Charles de Gaulle as it lands on the flight deck of the nuclear-powered aircraft carrier USS Enterprise (CVN 65). Enterprise and embarked Carrier Air Wing (CVW) 1 are currently underway on a scheduled six-month deployment. U.S. Navy photo by Mass Communication Specialist 3rd Class N.C. Kaylor.
Accomplishing the Rafale-Enterprise operation resulted from the coordinated actions of the engineering evaluation of compatible aircraft-ship capabilities by NAVAIR's support equipment program office; certification of the systems by the ALRE program office; the ALRE program manager at NAVAIR Headquarters and ALRE technical support from the Lakehurst, NJ team members; coordination and oversight by Commander, Carrier Strike Group Twelve; crew performance by the USS Enterprise (CVN 65); and with the cooperation of the Mediterranean's sunny summer weather.
Relationships and cooperative efforts between the French and U. S. navies have been ongoing. Under the auspices of the Navy International Programs Office Data Exchange Agreement and Foreign Military Support cases, NAVAIR's program manager for ALRE (PMA251) has provided technical assistance and hardware support for systems aboard the French aircraft carrier Charles DeGaulle and the newest carrier Porte Avion (PA2)."
Enterprise carried out the exercise while she was transiting the Mediterranean Sea enroute to the Persian Gulf to perform Maritime Security Operations in support of the Global War on Terrorism. Following the Rafale exercise she resumed her journey to the Persian Gulf.