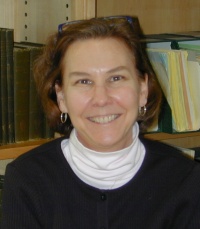 ST. MARY'S CITY, Md. - Julia A. King, associate professor of anthropology at St. Mary's College of Maryland, has been reappointed by President George W. Bush to the Advisory Council on Historic Preservation (ACHP). The ACHP advises the president and the Congress on matters of national historic preservation policy.
"We are proud Dr. Julia King is a member of our faculty," said Maggie O'Brien, president of the College, in a prepared statement. "This is her second appointment to the Advisory Council on Historic Preservation, and she is the first ever archeologist holding such a presidential appointment."
King has been a leader in the ACHP effort to update archaeological guidelines affecting the federal and national preservation structure. King holds a doctorate in American civilization from the University of Pennsylvania, a master's degree in anthropology from Florida State University, and a bachelor's degree in anthropology and history from the College of William and Mary. She has more than two decades of experience as an archaeologist, researcher, author, and educator.
At St. Mary's College of Maryland, King studies and writes about Chesapeake history and archaeology. She has published extensively on the region's distinctive culture and is the director of the College's SlackWater Center, which charts the environmental and cultural change in Southern Maryland as it moves from a rural/fishing economy to one based on military defense and technology.
Some of her recent articles include the soon-to-be-published "Meat, Alcohol, and Tobacco: The Question of an Adequate Diet in the 17th-Century Chesapeake" in the journal Historical Archaeology and "Still Life with Tobacco: The Archaeological Uses of Dutch Art," in Historical Archaeology, Volume 41, issue number 1.
King has served on the boards of Preservation Maryland, the Sotterley Plantation Foundation, the Council for Maryland Archaeology, and the Council for Northeast Historical Archaeology. She is a past president of the Society for Historical Archaeology.
King has received fellowships from Harvard University's Dumbarton Oaks, the Virginia Historical Society, and the Henry Francis DuPont Winterthur Museum, as well as major grants from the National Endowment for the Humanities. Her book on the contested nature of Chesapeake historical landscapes is being published in 2008 by the University of Tennessee Press.
An independent federal agency, the Advisory Council on Historic Preservation (ACHP) pro-motes the preservation, enhancement, and productive use of our nation's historic resources, and advises the president and Congress on national historic preservation policy. It also provides a forum for influencing federal activities, programs, and policies that affect historic properties. In addition, the ACHP has a key role in carrying out the administration's Preserve America initiative. For more information, please visit
http://www.achp.gov/.