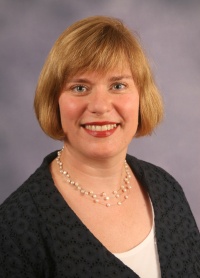 ST. MARY'S CITY, Md. (September 27, 2007)—St. Mary's College of Maryland (SMCM) has appointed Laura Bayless, Ph.D., to the position of Dean of Students. Bayless comes to SMCM from Longwood University in Farmville, Virginia, where she was the Dean of Students.
"I bring a commitment to undergraduate, liberal arts education and a focus on student learning to St. Mary's College," said Bayless. She also is dedicated to creating a seamless learning environment for students by collaboration between student affairs and the academic sectors of campus, as well as promoting appreciation for diversity to her work.
Bayless added that she has enjoyed her first month on campus, "for its combination of direct student contact and the big-picture work of building systems that challenge, support, and serve students."
Bayless, who grew up in Kettering, Ohio, holds a doctorate in educational leadership and policy studies from Virginia Polytechnic Institute and State University, where she worked as a graduate assistant in the Higher Education and Student Affairs Program. Bayless received a master of science degree in college student personnel services from Miami University in Oxford, Ohio, and completed her bachelor of arts in speech communication/mass media from Denison University in Granville, Ohio.
She has published in a variety of journals including College and University Media Review and Talking Stick and has made numerous presentations at national conferences. Currently, Bayless is the chair of the American College Personnel Association's Commission for Administrative Leadership.
While at her previous appointment at Longwood University, Bayless also served as interim director of residential and commuter life and of the honor and judicial program.