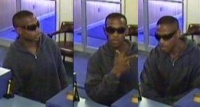 Bank surveillance photos of the robbery in progress.
LEONARDTOWN, Md. (September 26, 2007)—St. Mary's County detectives have identified the man they believe was responsible for the Monday robbery of the Maryland Bank and Trust on South Shangri La Drive in Lexington Park. Police obtained an arrest warrant yesterday for Antonio Warren Gantt, 40, from St. Leonard, Maryland. Police say Gantt's whereabouts are currently unknown and are asking anyone with information to call Crime Solvers at 301-475-3333.
Antonio W. Gant is wanted by St. Mary's County police for Monday's robbery of a Lexington Park bank.
On Monday at 1:48 p.m. a man later identified as Gantt, robbed the Maryland Bank & Trust in Lexington Park. The robber was reportedly wearing a gray hooded sweatshirt, black pants and dark sunglasses. He approached the counter and told a clerk he had a gun and demanded money. The clerk complied and the suspect fled on foot.
According to police, the robber fled on foot with an undisclosed amount of money behind the bank and across Great Mills Road.
An employee of the bank was treated at the scene by EMS personnel for chest pains.