By Guy Leonard, County Times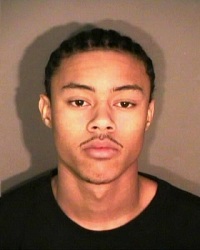 20-year-old Johntonna Young, accused of murdering a former U.S. Navy enlisted man, Kenneth James Walters, early this year.
LEONARDTOWN, Md. (September 20, 2007)—The trial of 20-year-old Johntonna Young, accused of murdering a former U.S. Navy enlisted man early this year, began Tuesday with State's Attorney Richard Fritz telling the jury that the gun used in the crime was scientifically matched to a gun that was in Young's possession several days before and after the homicide.
Fritz painted a graphic picture of the shooting for the jurors.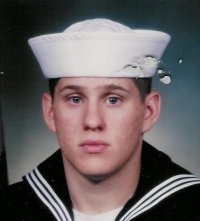 Kenneth James Walters, 24, a DynCorp employee, was murdered on Feb. 27, 2007.
Fritz told them that the victim, Kenneth James Walters, 24, a DynCorp employee, went to start his car at about 6:45 a.m. Feb. 27 and went back into his apartment to kiss his girlfriend goodbye.
When he went back to his car he was ready to get in when he opened the door and was shot in the face by Young, who was laying in wait inside Walter's car.
Investigators working the case have accused Young of shooting Walters while attempting to take items from the victim's vehicle.
Young has also been accused of taking part in several armed robberies earlier this year, including stealing several firearms from a local sporting goods store.
Young then fired a second shot into the victim's head from farther away, Fritz told the jury.
"He decided to make absolutely sure that Mr. Walters would not survive to testify against him," Fritz said.
Fritz also told the jury that Young had confessed to the crime when he was arrested by detectives from the Bureau of Criminal Investigations March 3 in Waldorf by saying that the shooting was an accident. Young also told several other people that he had accidentally killed a man, Fritz said.
"The state will contend that, yes, he did it but it was no accident," Fritz stated.
Young's attorney, public defender Sean Moran, told the jury that they had to remain impartial until they had heard all of the evidence in the case and that his client was presumed innocent.
Moran also told the jury that there were no eyewitnesses to the crime.
"There are no eyewitnesses to this case," Moran said. "There's no one who saw this happen.
"After all the evidence… you will be unable to convict him [Young] of first-degree murder, second-degree murder or the use of a handgun in a felony."
The first witness in the case was Walters' girlfriend, Melissa Guy, who had been together with him for nine months and was living with Walters when he was killed.
She said that morning was the last time she saw her boyfriend alive, though she testified she heard no gunshots that morning.
"He told me he loved me and would see me later… and he left," Guy said.
Other witnesses who testified, including sheriff's deputies, detectives and crime scene technicians all served to help bring evidence into the case to include spent shell casings from the gun Young allegedly used to kill Walters as well as bullets taken out of Walters after his autopsy.
If convicted of the charges against him Young could spend the rest of his life in prison.
RELATED INFORMATION:
Man Found Dead, Shot in Head, in LP City Tuesday Morning, Feb. 27, 2007
http://somd.com/news/headlines/2007/5478.shtml
Arrests Made In St. Mary's Homicide And Two Armed Robberies, March 5, 2007
http://somd.com/news/headlines/2007/5505.shtml