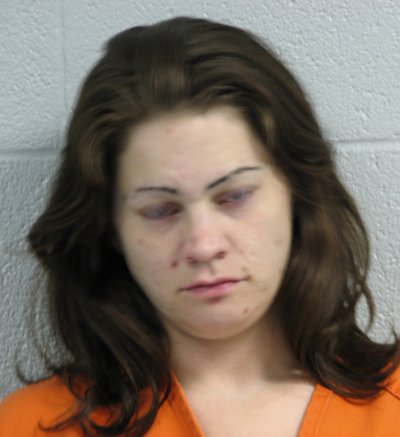 Barbara Louise Hampton, 28, of Prince Frederick, Md., was arrested on Wednesday for the murder of her mother Pamela Varner. (Calvert County Police Arrest Photo)
PRINCE FREDERICK, Md. (September 20, 2007)—Yesterday, police from Calvert County located the body of a dead woman in the trunk of her car which was parked in the garage at her residence in Prince Frederick.
The victim was identified as Pamela Varner of Westlake Blvd., Prince Frederick, Calvert County, Maryland. The car in which the body was found was identified as a 2006 Honda.
Barbara Louise Hampton, Varner's 28 year-old daughter, was taken into custody for the murder. Hampton, who resided with her mother at the Westlake Blvd. address, was apprehended at approximately 9:00 p.m. on Wednesday, Sept. 19, in the Cove Point Rd. area of Lusby without incident.
Hampton admitted involvement in her mother's death, say police. She was charged with 2nd degree murder and 1st and 2nd degree assault. She is currently being held at the Calvert County Detention Center awaiting a bond review with the District Court Commissioner.
A motive for the crime is unknown at this time.
On Tuesday, September 18, the Maryland State Police, Prince Frederick Barrack, took a report of a person missing under suspicious circumstances. Police say Pamela Varner failed to show up to work and had not been heard or seen since late Monday, September, 17.
On Wednesday, the Calvert Investigative Team (CIT) assumed the investigation and executed a search warrant at the residence in Prince Frederick where they found the body.
CIT is comprised of investigators from the Calvert County Sheriff's Office and the Maryland State Police, Prince Frederick Barrack.