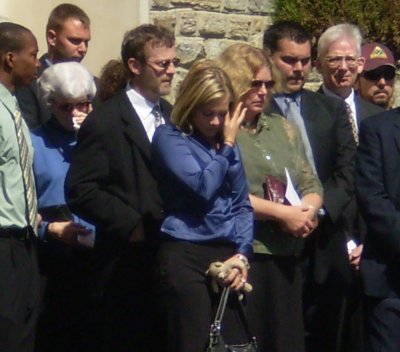 Ashley Weeks, of Abingdon, Md., wipes away a tear after services for her husband, Army Spc. Ari D. Brown-Weeks, whose casket was driven away from his funeral at Mountain Christian Church in Joppa, Md., on Wednesday. (Photo by Dan Lamothe, Capital News Service)
By DAN LAMOTHE, Capital News Service
JOPPA, Md. (September 19, 2007) - Between missions in Iraq, Army Spc. Ari D. Brown-Weeks wrote many letters to the Maryland family of his new wife, Ashley.
He encouraged her younger cousin, Hope, to try harder in school. He promised Ashley's mother he would take care of Ashley forever. And he said repeatedly he believed in the mission he was carrying out as a paratrooper in the Army's famed 82nd Airborne Division, known for its daring on the front lines.
There will be no more uplifting words from him.
Brown-Weeks and six other soldiers were killed Sept. 10 in Baghdad when their truck rolled over off an elevated highway, military officials said. His funeral service was Wednesday.
"We need to capture all the 'bad guys' and make this place safe for the people of Iraq," Brown-Weeks, of the Fort Bragg, N.C.,-based 1st Battalion, 325th Airborne Infantry Regiment, 2nd Brigade Combat Team, wrote in one of the letters.
An Abingdon resident, Brown-Weeks was mourned Wednesday as a "smiling lion"—someone who enjoyed cracking jokes, but would do whatever he could to protect his family and country.
The reading of Brown-Weeks' letters by his wife, Ashley (Tillery) Weeks, and her mother, Deborah Tillery, of Abingdon, played a central role in the soldier's funeral at Mountain Christian Church.
Wiping away tears, Ashley Weeks, 21, said she believed her husband, 23, will now be her guardian angel.
"I loved Ari more than anything," she said. The two married in December 2006. "I promised him I would stay with him forever, until one day I can be with him for eternity."
About 80 people attended the funeral, which was filled with personal touches harkening back to Brown-Weeks' youth growing up in Leyden, a small mountain town in northwestern Massachusetts.
Before the service started, dozens of photos—everything from his days in Little League baseball to his wedding—flashed across screens in the church. A bagpiper played before and after the service, and members of the 82nd Airborne Division served as pallbearers.
Deborah Tillery told mourners that Brown-Weeks put her entire family at ease.
"He was so comfortable in our home, it was like he had always been there," Tillery said. "Everyone's life will go on, but their lives will forever be changed by Ari's passing."
At least 20 friends and family made the trip from Massachusetts to Maryland for the funeral, including Brown-Weeks' parents, Jon Weeks and Karyn Brown, of Leyden.
Family members declined to comment after the service, but Russ Sliger, a funeral director with McComas Funeral Home in Bel Air, said Brown-Weeks will be buried at Arlington National Cemetery on Oct. 3. The family is considering holding a memorial service for Brown-Weeks in Massachusetts.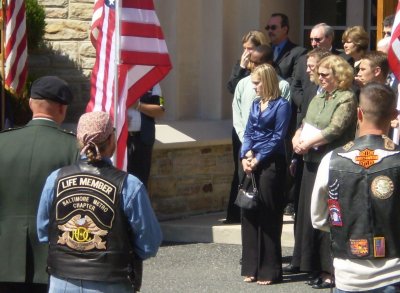 Ashley Weeks, of Abingdon, Md., watches as the coffin of her husband, Army Spc. Ari D. Brown-Weeks, is placed in a hearse following his funeral at Mountain Christian Church in Joppa, Md., Wednesday. The couple had been married less than a year when Brown-Weeks died Sept. 10 in Baghdad, Iraq. The men in motorcycle garb are members of the Patriot Guard Riders. They were invited by the family to protect the services from lunatics such as the people from the Westboro Baptist Church, of Topeka, Kansas who have used funerals of dead servicemen to protest homosexuality. (The Westboro Baptist Church has no affiliation with the official Baptist Church or Christianity) (Photo by Dan Lamothe, Capital News Service)
About 40 members of the Patriot Guard Riders, a veterans' group known for attending the funerals of U.S. military members on motorcycles to protect families from hecklers, attended the funeral at the invitation of the Brown-Weeks family.
Members of the Westboro Baptist Church, of Topeka, Kansas, said on their Web site that they planned to protest the United States' tolerance of homosexuality at the funeral, but none could be seen.